25 June 2019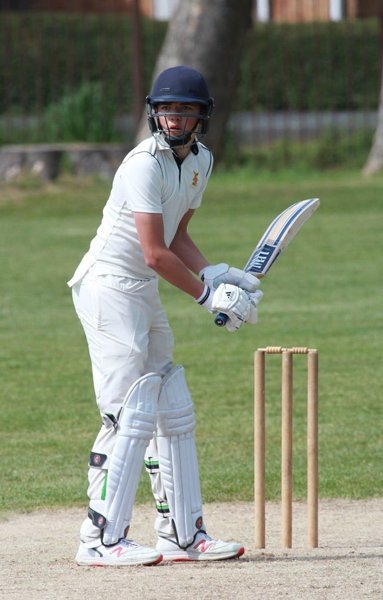 Friday 21 June:
Kirkham - 166 for 7 off 20 overs
Queen Elizabeth II School, Isle of Man - 125 all out
Kirkham won by 41 runs
Saturday 22 June
QEGS, Blackburn - 92 for 8 off 20 overs
Kirkham - 93 for 7 off 20 overs
Kirkham won by 3 wickets
The Under 14s had an excellent weekend defeating Queen Elizabeth II School, Isle of Man on Friday and then Queen Elizabeth's Grammar School, Blackburn the following morning. Kirkham were invited to play the touring Isle of Man team at Rossall School on a sunny Friday afternoon, managing to score the highest team total of the season. Batting first, Louis Johnson scored a tremendous 92, well supported by captain Sutcliffe, who scored 43. The team finished on a commanding 166 giving the boys the confidence to defend this total. The opposition were always behind the run-rate and the team was able to rest Johnson and Sutcliffe from bowling duties until the final two overs of the match. Nine bowlers were used during the innings and six bowlers managed to take wickets, giving everyone a chance to help secure victory. The opposition were finally dismissed for 125, giving Kirkham victory by 41 runs.
The following morning saw a very different match played on a tougher, home wicket. The boys bowled more tightly as a unit and it was particularly impressive to see seven of the eight wickets, clean bowled. QEGS finally managed to finish on 92 runs, which was certainly a par score on this wicket. Kirkham struggled early on in their innings with Smith and Reid bowled by the most impressive Cunningham, the opposition's main strike bowler early on. Fortunately, a crucial partnership between Matthew Oddie and James Sutcliffe proved to be pivotal with the boys putting on 44 for the third wicket. When Sutcliffe was run out taking a risky run to stay on strike, there was still work to do and the team lost three further wickets in a nervous spell of play. Fortunately the boys kept their cool in the final two overs, and with 4 needed to win off the last over, the boys managed to scramble four runs in the final over with a single of the last ball securing the most exciting finish of the season. A terrific weekend of cricket!
Congratulations to Third Year pupil Louis who has been selected for the Lancashire Under 14 Cricket squad