5 July 2019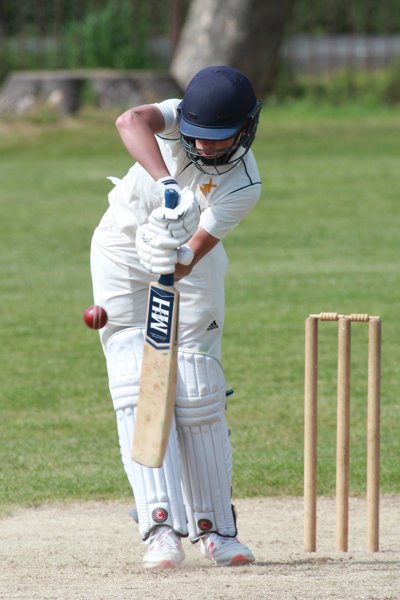 A remarkable victory for the U14 to finish the season:
Huttun GS: 157-7 (20 overs) [Roberts 50 not out, Wilson 44, Thomas Shuttleworth 3-16, Archie Dowds 2-17]
Kirkham GS: 158 - 7 (20 overs) [Will Smith 54 not out, Thomas Shuttleworth 32, Archie Dowds 23]
Kirkham won by 3 wickets.
The home side Hutton won the toss and decided to bat first on a lovely sunny afternoon. Their 2 openers Roberts and Wilson made hay on a very fast outfield with short boundaries, along with some slightly wayward Kirkham bowling, scoring at 10 runs an over to have reached over 100 jruns by 10 overs. Captain Roberts retired on 50, and then Wilson (44) was caught and bowled by the Archie Dowds' tight spell of off spin. Kirkham sensed blood, fighting back with excellent spells of bowling from Dowds, Will Smith and Matthew Oddie. Thomas Shuttleworth then bowled an astonishing first over - a wicket with his first ball and then 2 more, to achieve a very rare 3 wicket maiden! Matthew Wright must also be mentioned for a splendid catch on the boundary. Hutton ended up with a good score of 157 off 20 overs.
The Kirkham openers started their innings like an express train. Dowds (23) and Shuttelworth (32) hit a flurry of boundaries putting on nearly 50 for the 1st wicket, keeping up with the run rate required comfortably. The Hutton players looked fearful when Dowds hit an enormous straight 6 into the car park! When the openers fell, Ethan Woodcock was unluckily run out without facing a ball by the impressive Shuttleworth, who then ran himself out after his best innings of the year. Big hitting captain James Sutcliffe was was then out without scoring, meaning 100 runs was still required with 4 good batsmen back in the hutch. However, the majestic Will Smith was still at the crease to give Kirkham hope. He was supported well by Harvey Thompson and Matthew Oddie who both kept the scoreboard ticking over. In the final over 8 runs were required with Smith on strike. A dot ball, then a 6 back over the bowlers head silenced the Hutton players. He then hit a single to bring the scores level with 3 balls left. Oddie then defended the next 2 balls, leaving 1 ball of the match left and 1 run to win. On the final ball Oddie had a huge swipe, missed the ball which went through to the wicket keeper, Smith scrambled a bye to bring a famous victory for Kirkham before the wicket keeper could take off the bails! Smith hit nine 4's and a 6 in scoring a very mature 54 not out, his 2nd fifty of the season. A very competitive and sporting match played by 2 well matched teams.
An excellent way to end a good season for the U14 team, who have been a pleasure to look after this summer.