1 October 2019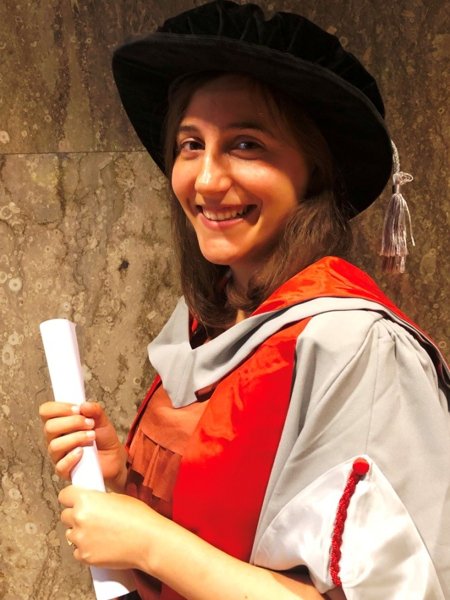 Dr. Soraya Louise Salahi Dunn
BSc, ARCS , MSc, PhD.
Most days, Dr. Dunn commutes the 25 minute rail journey from Hertfordshire into London and then walks the short distance to University College London (U.C.L.) to her laboratory.
Nearly every day is different; whether it is setting up an experiment, writing analytical computer programmes, performing operations or reviewing data; the science goes on and she loves it. Neuroscience was not her decisive career path from a young age. In fact, Soraya only made that choice after her degree; she had wanted to be an astronaut at the age of three.
When Soraya came to KGJS aged three, she spent at least an hour on a mat fast asleep in the afternoons. This regular occurrence prompted the teacher to suggest that she and three other pupils, all the youngest in their form, to remain down a year.
Not only did this give them an extra year of childhood, it enabled them to mature and gain greater confidence. This boost was all that Soraya needed and she excelled in her studies and won the 'Academic Scholarship' award to enter the Senior School. She was also in the school's hockey team and played throughout her time at KGJS and KGS.
The astronaut ambition diminished in her teens and she was at a loss on a career path. She made her GCSE selection based on the sciences and humanities and obtained nine A*s. Her selection of A Level subjects reflected a science based career as she chose: Physics, Chemistry, Maths and in contrast Psychology. This latter subject may have had a subconscious influence later, but she dropped it after one year in favour of Further Maths, though she did gain an A at AS Level.
Soraya gained four As (the highest at that time) and was accepted as a Physics undergraduate at Imperial College, London and captained the Ladies 2nd hockey team. Three years later she gained a First Class Honours degree. Imperial College also awarded her Associate of the Royal College of Science which is a degree-equivalent award presented by Imperial College London to students who excel in an undergraduate course of study in Science.
Still undecided on her next steps, Soraya went to South Korea to teach English as a foreign language. It was there that she decided Neuroscience was the subject she wanted to pursue and so applied to UCL for her Masters. They accepted her, providing she self-studied the human nervous system, the blood and the brain.
Two years later she entered UCL and gained the highest mark in her year and gained her MSc in Neuroscience. There she caught the attention of one of the Project leaders and offered a four year PhD course. Having completed that last year, Soraya decided to remain in academia for the present time and accepted a Post doctorate to continue the work started in her thesis.
Who knows her future!