8 October 2019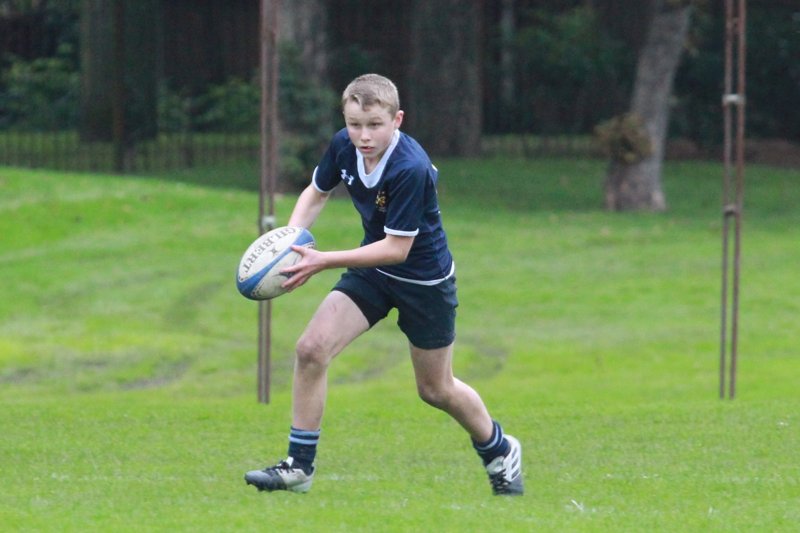 1st XV Rugby v Mount St Mary's
Kirkham Grammar School 1st XV travelled to Mount St Mary's near Sheffield for a tough fixture. St Mary's came out and took Kirkham on from the start placing KGS under terrific pressure. Captain Ethan Caine and Vice-captain Ollie Leatherbarrow had to be at their best to keep Kirkham going forward. Eventually after absorbing all that St Mary's had, KGS scored the first try after some fine interplay from the backs and forwards. Hooker Joe Higgins took his opportunity well and this settled Kirkham down. Just before half time KGS struck again with a good try from winger Keir Gordon converted by Elliot Gourlay giving KGS a 12-0 half time lead. Just after half time, Full Back Sam Carleton scored a fine individual try which took Kirkham clear. Despite the score, St Mary's fought back but KGS defended well and eventually broke away with 2 late tries from Ollie Leatherbarrow and young prop Louis Fletcher to give them a 31-0 victory over a tough opposition.
U16s v Mount St Mary's
The U16s travelled to Mount St. Mary's in a hugely competitive game. Mount St. Mary's started strong with huge physicality and powerful ball carrying. Kirkham matched them physically and after 15 minutes started to overwhelm their opponents. Continued wave of Kirkham attacks were breaking the defence and by half time Kirkham were in the driving seat. A late come-back was too little too late from St. Mary's and the final score was 21-44. Special mentions go to Yande Nkonge and Harry Tomlinson who made outstanding contributions.
U15s v Denstone
The Asset Finance Solutions sponsored KGS U15s produced a sparkling performance from first to last minute against a much fancied Denstone College outfit. After a blistering start, which saw KGS 21-0 up after 15 minutes, they controlled much of the play to run out 42-7 winners against a team they had lost to heavily only one year previously.
On a beautiful afternoon to play rugby, on the back of a good National Cup win in the week, Kirkham came out of the traps quickly. The forwards set the tone with some powerful ball carrying, which saw scores for Theo Timmins and Ioan Condon to put the home side 14-0 up inside the first 10 minutes.
Straight from the kick off, it was the backs turn to show their pace and skills. Charlie Read, who had yet another excellent game, set the backs off in motion, using the forward carriers as decoys, to put Archie Dowds into space and he duly sent Aiden Hayward in the corner to make it 21-0 after Dowds slotted a good conversion.
Denstone did reply with some strong running of their own, but the scramble defence of Kirkham along with some crucial turn overs from Matthew Wright snuffed out any threats.
With the closing moments of the half, Kirkham really tightened the screw and scored 2 spectacular efforts from long range. After a kick from Denstone, Freddie Tarrant stepped and jinked his way from the oncoming chase and then showed a tremendous turn of pace. He handled the ball to the supporting Matthew Oddie, who in turn showed a deft touch with a well weighted pass to Ben Wiggins who rounded the full back to score under the posts (28-0). It would be Dowds who would close the scoring, after a good set move, he went 60 metres, beating 2 defenders to score. Read added the extras to make it 35-0 at half time.
The second half was a much tighter affair. Whether that be the changes made at half time or that Denstone upped their game, but KGS were resolute in the main in defence and still potent in attack, if not quite as clinical.
Denstone scored after a good period of pressure with their heavy 12 steam-rollering his way over from close range. But the blues would finish the scoring, the George Edwards – Charlie Read axis at 9 and 10, together opened up the Denstone defence, which resulted in Dowds bagging his second try of the match.
Josh Stirrup, Matt Schmid, Saul Penn, Harvey Thompson, James Sutcliffe and Ben Nicholls all had superb games working hard within the tight and set the foundations for a good victory.
U14A v Denstone
WON 24-12
The U14s played some attractive rugby on Saturday and managed to score four tries to Denstone College's two. The Kirkham pack fronted up well, with Jack Chapman, Henry Whitton, Saif Amr, Seb Kelly, Wills Gut, Alex Greenhalf, Luca Mihell and Sam Medhurst all giving 100% effort.
In the back line, Harry Reay and James Stacey both scored two tries, with Callum Hill kicking two conversions. Harry Tomlinson had some good runs out wide and Oliver Greenwood worked hard to pass the ball from a highly pressured breakdown.
U14B v Mount St Mary's and Denstone College
KGS U14B 14 v St Mary's 31
Mount St Mary's started strongly and had some very good players out wide who too easily scored a couple of early tries. However, when Kirkham got their defence organised and controlled possession they showed glimpses of the rugby that they can play. They were ably led by the captain Alexander Kane who scored a brilliant individual try from forty meters out. In the second half, good yards from Finlay McLachlan set clean ball for the rampaging forward Colin She to go over under the posts again converted by Alexander Kane.
KGS U14B 7 v Denstone College B 19
This was a spirited performance from KGS who really dug deep after the a tough first fixture of this triangular tournament. Another excellent try from Xander Kane after a good scrum saw their efforts rewarded as they finished strongly. There was plenty of improvement shown here, just a little bit more composure is needed. Well done to all the players for the effort and the commitment they displayed throughout the afternoon.