5 November 2019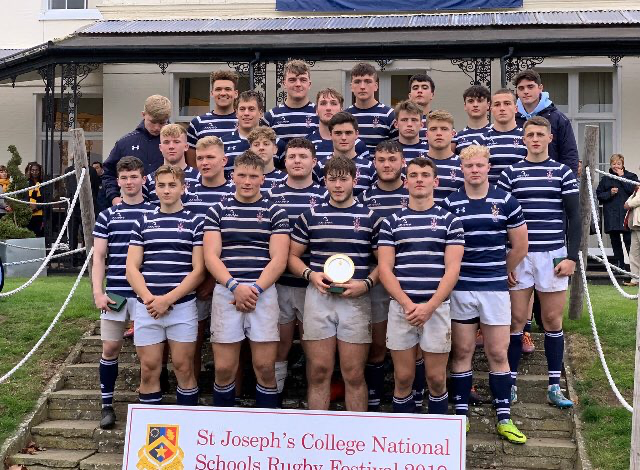 1st XV at St Joseph's National Rugby Festival
Kirkham Grammar School 1st XV travelled over the first weekend of half term to participate for the first time in The St Joseph's College National Schools Festival. Many of the top rugby playing schools from England and Wales were in attendance. Despite the long journey to Ipswich, Kirkham started the first day well with a last minute Corey Bowker try to give them a 7-3 victory over Hampton School, this gave the team confidence for the rest of the day to try and make the Cup Competition on the second day.
Next up was Dulwich College, but from the start Kirkham dominated with Captain Ethan Caine and fellow back row player Oli Leatherbarrow controlling the match. Caine helped himself to two tries and an Elliot Gourlay penalty took KGS to a 15-0 victory. Last up in the group were Yorkshire side QEGS Wakefield. This time it was the KGS backs who got on the scoresheet with winger Keir Gordon opening his account followed closely by a try from centre Owen Fisher to complete a 12-3 victory and entry into the Cup Competition for the second day.
Kirkham next faced the hosts St Joseph's College who had a huge support from the touchline but KGS showed confidence and power to put the Ipswich team on the back foot and again it was Ethan Caine and forwards who grinded out a 22-0 victory.
Next up were Whitchurch High School (former school of Sam Warburton, Gareth Bale and Geraint Thomas) one of Wales's top rugby playing school. Despite creating opportunity after opportunity KGS failed to get on the score sheet and half time it was 0-0. Kirkham started the second half and eventually got their rewards with a catch and drive try but only a 5-0 lead. Very late in the game Whitchurch came alive and threatened for the first time and eventually scored to draw level. The Whitchurch player then magnificently converted from the touchline for a 7-5 lead with 1 minute to play. The game seemed lost but somehow KGS managed to get the ball back and forced a penalty, under immense pressure Elliot Gourlay stepped up and slotted the kick and give KGS an 8-7 win. Kirkham were now close to making the final and with tries from Sam Carleton and Keir Gordon against Denstone they gained a 10-0 victory which took Kirkham into the final of this fantastic tournament. The final versus Wellington College was well contested with KGS having chances early but it was the Berkshire side who took a 12-0 half time lead. Kirkham responded and took on Wellington and were rewarded from their endeavours with a Marcus Blake try. Kirkham tried everything to close 12-5 margin but with time running out Wellington broke away to complete a 19-5 victory. Despite this loss KGS had played outstanding rugby and gained a place in the final of this top tournament.