4 December 2019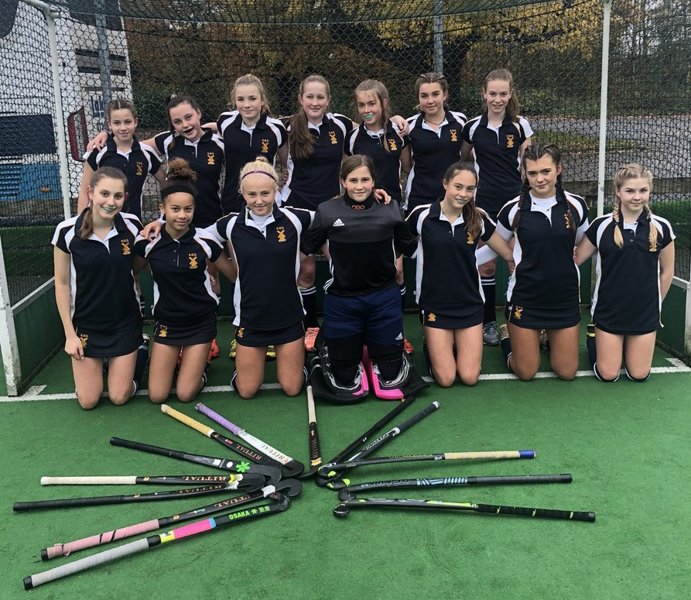 Hockey
U14 North Final
On Friday 29 November, the KGS U14 girls travelled to Leeds to compete in the Northern Finals.
Frozen pitches delayed the start of the game, however, though not ideal, the format was changed and the tournament went ahead on one pitch. KGS' girls started well against GSAL, the game was very competitive and finished 0-0. A wait of 2.5 hours for their next game against Yarm resulted in a mixed performance as the girls had to find their momentum again - once again the game finished 0-0.
The final game against Sedbergh was fiercely competitive and very physical. The game was end to end and the Kirkham girls grew stronger as the match progressed. KGS had their chances but struggled to convert them despite giving a gutsy team performance, showing fantastic team spirit and complete commitment. Again the match finished 0-0. The KGS girls defended superbly and created many chances - but just struggled to take them. Well done to Captain Anya Jackson, Vice- Captain Maisie Bailey, Lily Harrison, Millie Homan, Emily Marsh, Rebecca Fisher, Ariana Milligan, Jess Cole, Jasmine Schofield, Rachel Watson, Alyssia Threlfall, Martha Millar, Lilly Jones, Georgia Nichols and Claudia Allison.
Rugby
1st XV v Ballymena Academy
Kirkham Grammar School 1st XV travelled to Ulster to play Ballymena Academy School ranked no.1 in Ulster this season. On paper this was always going to be one of the hardest fixtures and so it proved to be. Both teams were physical and tried to dominate each other but defence was dominant early on as the score remained 0-0 for a long period of the first half. Kirkham were the first to pounce on a Ballymena mistake as a poor kick was collected by scrum half Jonty Cope who quickly set full back Sam Carleton into space. KGS capitalised and with some clever inter-passing from back row players Ethan Caine and Cammie Thompson released winger Adam Spence for the opening try which was converted by Elliot Gourlay. This was quickly followed by the team try of the game, where Oli Leatherbarrow made a big break which was well supported by second row Marcus Blake who linked with Ethan Caine who set up a quick ruck which allowed the backs to use a set move finished by centre Owen Fisher to give KGS a 14-0 lead.
Ballymena are not ranked number 1 in Ulster without good reason, and from just before half time Ballymena took control of the game. Reducing the lead on the stroke of half time to 14-7, the Ulster side continued to pour the pressure on the KGS players. After absorbing huge pressure, KGS eventually made a mistake and Ballymena closed the gap to 14-12 and with 12 minutes to go took a 15-14 lead. Kirkham had to dig deep and with Captain Ethan Caine keeping everyone focused found a way: outstanding defence from young centre Aaron Pope allowed fellow centre Owen Fisher to pounce on a Ballymena defence and race 50 metres to regain KGS the lead. Kirkham maintained the momentum, keeping hold of the ball from kick off and eventually allowing Owen Fisher to hit the perfect line to once again open the Ballymena defence for an outstanding try and secure a 26-15 victory.