4 February 2020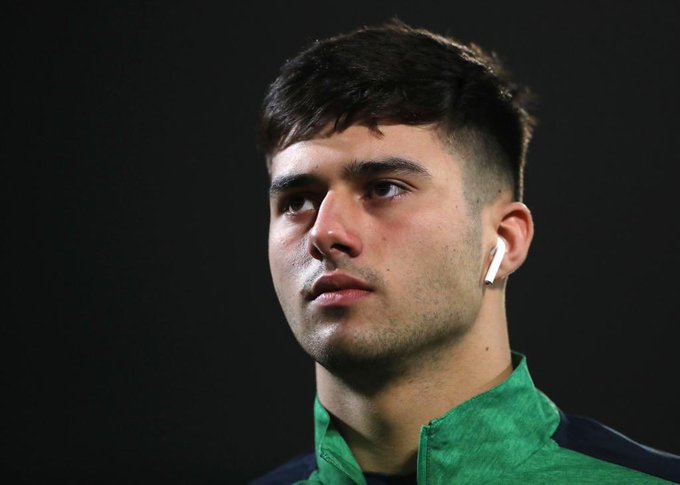 Senior School Sport
Rugby
The Under 17s finished their season with two impressive wins over Sedbergh School and Altrincham Grammar School. In the first of these two games KGS enjoyed a 12-7 victory at Sedbergh with Ethan Hulme and Tane Bently getting the crucial tries. Playing in difficult conditions, KGS dominated the Cumbrian school and deserved their win.
In the second of the two games v Altrincham KGS were in complete control and scored a number of tries including a number from Tobias Parkinson, Sam Carleton, Harry Thompson, Cammie Thompson, Louis Fletcher and Josh Lynch as they secured a big win. Also over the weekend former KGS pupils Daniel Kelly and Connor Doherty were in action for Ireland under 20s and England under 20s. In fact last year's 1st XV Captain Dan Kelly was making his international debut at that level (pictured above).
Junior School Sport
AJIS Indoor Athletics Championships 2020
On Tuesday 28 January, Kirkham travelled to Wigan Indoor Arena to take part in the Association of Junior Independent Schools Indoor Athletics Championships.
25 schools entered and 700 pupils were involved. With the standard of competition very high, just to come in the top 10 was a fantastic achievement. Kirkham had prepared very well with 4 fixtures against Preston Harriers and Lytham AC. Out of the 28 athletes who were selected 16 returned with medals. Kirkham were awarded 4 Golds and 5 Silver and also set or equalled 4 AJIS records.
In the obstacle relays the team had practised extremely hard and it was very satisfying to win 3 golds and 1 silver out of 4 races. The relay teams were represented by the following:
U10 Girls (Gold)
Ellie Wu
Hollie Bailey
Philippa Hancock
Hermione Edwards
U11 Girls (Gold)
Evelyn So
Alice Wright
Issy Gut
Emily Greenwood
U10 Boys (Gold)
William Thompson
Jonty Faith
Sebastian Clarke
Freddie Wiltshire
U11 Boys (Silver)
Evan Twose
Tom Barton
Jack Dawson Gerrard
Bertie Jones
In the individual events, Bertie Jones won Gold in the balance and equalled the AJIS record. The Silver medals were won by Freddie Wiltshire in the 3 lap race, Evelyn So in the balance, Tom Barton in the speed bounce and Emily Greenwood in the javelin.
St Pius Swimming Gala
Kirkham U9, U10 and U11s swimming teams travelled to West View Leisure Centre to take part in the St Pius Annual Gala alongside Rossall, Altrincham Prep, St Mary's Hall, Ashbridge and St Pius.
KGS got off to a great start with James Wileman winning the first event of the day which was the U9 backstroke. Two more first places were won by Emily Greenwood in the U11 Breaststroke and the U9 Medley Relay – this team was made up of Seth Nuttall, James Wileman, William Desoer and Kyle Addison.
Hockey
On Monday 3 February, Kirkham U11 boys' hockey team travelled to Manchester Grammar School to take part in the AJIS Hockey Tournament.
In the group stages Kirkham had the following results:
v Kings School Macclesfield won 2-1 (goal scorers: Bertie Jones, Tom Bellamy)
v Cheadle Hulme won 3-1 (goal scorers: Tom Bellamy, Bertie Jones, ack Dawson - Gerrard,)
v AKS won 2-0 (goal scorers: Bertie Jones Jack Dawson - Gerrard)
v Westholme won 4-0 (goal scorers: Sebastian Clarke 2, Tom Bellamy 2)
v The Grange won 2-0 (goal scorers: Sebastian Clarke, Henry Allison)
These results meant Kirkham won the group and met Manchester Grammar School in the semi- finals. The game was very tight but Kirkham eventually won 2-0 with goals from Tom Bellamy and Bertie Jones.
The final saw KGS vs Kings School Macclesfield, who they had narrowly beaten in the group stages. Kings scored an early goal to go 1-0 up after 2 minutes. Both teams had goal scoring opportunities but both keepers were in good form. The final score was 1-0 to Macclesfield who deserved their victory and should be congratulated on becoming AJIS Champions.