10 March 2020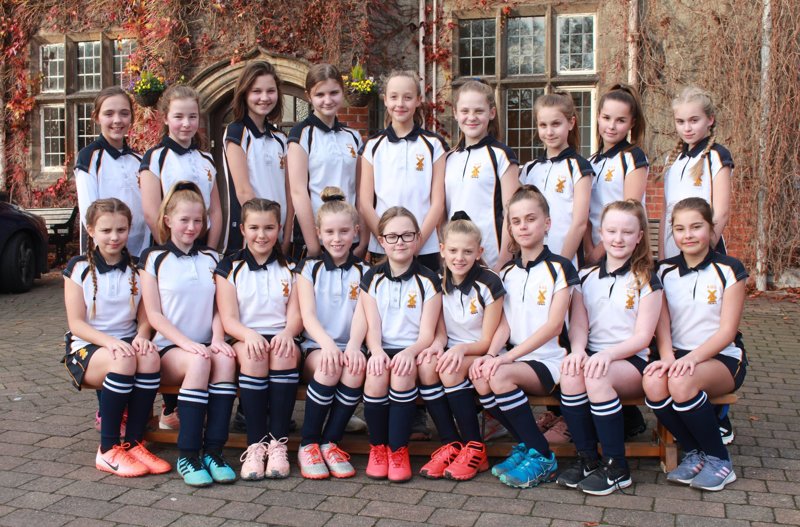 (photo above of KGS U12 Hockey Girls)
U16s Winners at Merchant Taylors, Crosby Sevens Tournament
At Merchant Taylor's Crosby Sevens Tournament on Saturday, the U16s continued where they left off before half term. Following their success at the RGS Newcastle competition last month, Kirkham picked up another prestigious trophy beating a well drilled St Mary's, Crosby side in the final.
In the group stage, Kirkham defeated Hymers College 17-0, Wirral Grammar 40-0 and St Mary's Crosby 17-0. The Manchester Grammar School pushed the Kirkham side in the semi-final, however Kirkham had too much pace and power and they won the game 31-7. Kirkham then met St Mary's again in the final. Kirkham found themselves 7-0 up at the half way point, however St Mary's got the first try of the second half. At 7-5 to Kirkham and with both defences functioning well it looked like the next team to score would win the game. Kirkham winger Josh Lynch found himself one on one and beat his man to put Kirkham ahead. Lynch did the same again, just before the final whistle, helping Kirkham win 17-5. Captain Yande Nkonge collected the trophy and it was the first time that a team from Kirkham had won the since the competition began in 1987.
KGJS Rugby
Rossall Rugby 7s
On Wednesday 4 March, Kirkham U11 boys took part in the Rossall Rugby 7s.
Kirkham won 3 matches vs Cheadle Hulme, Merchant Taylors, Birkenhead and drew against St Mary's Hall. These results meant they won the group and qualified for the final vs Bridgewater. Despite a tough and physical game, Kirkham continued to play some excellent rugby and scored 4 tries to win the game.
Thank you to Rossall for organising another fantastic tournament.
KGJS v The Buchan School
On Thursday 5 March, Kirkham Grammar Junior School U11 A and B teams hosted The Buchan School from the Isle of Man. (photo attached)
Due to the recent bad weather the matches were held at Preston Sports Arena on their artificial pitch. Both games were played in glorious sunshine and parents spectating were treated to some excellent flowing rugby.
As is tradition, the A team game were playing for the Kirkham/ Buchan Challenge ShieId. Kirkham came out victorious, but only just, with a 20 pts to 15 win. In the B team game The Buchan won 20 -10.
They were fortunate to have Bevan Todd in attendance who is an England U20 Rugby International (pictured left with man of the match winners for each team, Bertie Jones and Jack Gillett and the Kirkham A team captain Tom Barton with the winning shield).
Hockey
U15 XI v Cheadle Hulme
The girls were excited to play together after getting few chances at team play so far this year. Despite a slow first half and conceding a goal, this obviously had a positive impact on the team - resulting in two fantastic goals being scored quickly and effectively and a 2-1 win.
U14s v Cheadle Hulme
The girls started well, pressurising the Cheadle defence from the first whistle. Jasmine Schofield, Rachel Watson and Jess Cole made piercing runs whilst Alicia Threlfall proved hard to control in the D. Jess opened up the scoring early in the first half and added to it just before half time to put KGS 2-0 up.
Cheadle hit hard in the second half and scored early on to make it 2-1. Kirkham defended well soaking up the Cheadle pressure. Millie Homan made crucial tackles, Rebecca Fisher was very strong in the left hand corner, Lily Harrison and Emily Marsh were very solid at the back and Captain Anya Jackson showed real strength in goal. Maisie Bailey made run after run on the left wing and Ariana Milligan was totally composed in the centre of midfield from start to finish. Kirkham took control once again and in the last ten minutes a goal from Alicia Threlfall gave Kirkham a 3-1 lead. Cheadle bounced back to score another and a third goal for Jess Cole gave the Kirkham girls a well-deserved 4-2 victory. A great game, end to end and highly competitive!
U13s v Cheadle Hulme
The U13s played some wonderful attacking hockey as they beat Cheadle Hulme 4-2. KGS attacked with width and pace as Keira Tomes provided a constant threat down the right wing; some clever link up play with the rest of the midfield created countless chances for the KGS forwards, ultimately leading to a KGS short corner. Lilly Jones swept the ball hard and low into the goal from top D to give KGS a 1-0 lead. Poor defending a short corner allowed Cheadle back into the game but as KGS continued to pour forward more goals followed - resulting in a 3-1 lead at half time. KGS knew their lead could have been bigger after some fantastic passing hockey but also knew they needed to guard against any quick Cheadle counter attacks; Claudia Alisson called into action on more than one occasion as KGS left players unmarked in the D.
A tactical re-shuffle in the second half saw KGS improve their defence with Anna Wileman impressing with her tough tackling and distribution from the centre back role. In a very competitive second half both teams added a further goal apiece to leave the final score at 4-2 to KGS.
U12 A and B v Cheadle Hulme
In the last Saturday match of the season, both teams got off to a good start retaining much of the possession across both pitches. Sophie Rawlinson and Poppy Dodds made some excellent runs down the middle of the pitch to set Zea Trend and Libby Langley through on goal. As Cheadle grew in confidence possession frequently turned over meaning it was anyone's game. Unfortunately, in the occasion Cheadle took the victory.
It was a very similar story on the other pitch. Amelia Sharpe and Lola Cooper dominated the middle of the pitch whilst Abby Southern and Leoma Gill made some excellent tackles in defence. Sharpe converted in the second half to leave the final score at 1-1. A terrific season for a great set of young, talented players! The future is certainly bright at KGS!
Rugby
After the disappointment of losing in the final of the Birkenhead School 7s midweek, KGS 1st Seven moved on and tried to defend the prestigious North of England 7s. Despite facing tough opposition in their group, KGS were able to defeat Bradford Grammar School, Durham School, Malvern College and Loretto School. Adam Spence was in fine form scoring a number of tries, as was young under 16 player Aaron Pope who stepped up to this demanding form of the game in fine fashion. Scotland under 18 player, Oliver Leatherbarrow, was outstanding in carrying the ball and running from distance to score vital tries for KGS.
After winning the group Kirkham faced The King's School Worcester in the quarter final. With confidence gained from the group games, KGS dominated the opposition and, with fly-half Elliot Gourlay controlling the game, ran out comfortable winners.
The semi-final was a tense affair with RGS Newcastle proving tough opposition but with Captain Ethan Caine leading powerfully and with Adam Spence scoring a fine try at a crucial stage, KGS reached the final for the sixth time in the tournaments history. The final versus Barnard Castle was brutal with the North East side gaining the upper hand in the first half after KGS having to defend with six players after a yellow card. Defending a title is always difficult and despite going behind Kirkham responded with great tenacity and scored two tries themselves to close the score 12-26. Unfortunately time ran out but KGS can be proud of their efforts this weekend.
2nd XI
Congratulations to KGS 2nd XI (pictured below) who won the OSA Cup at Austin Friars. Well done boys!