9 September 2019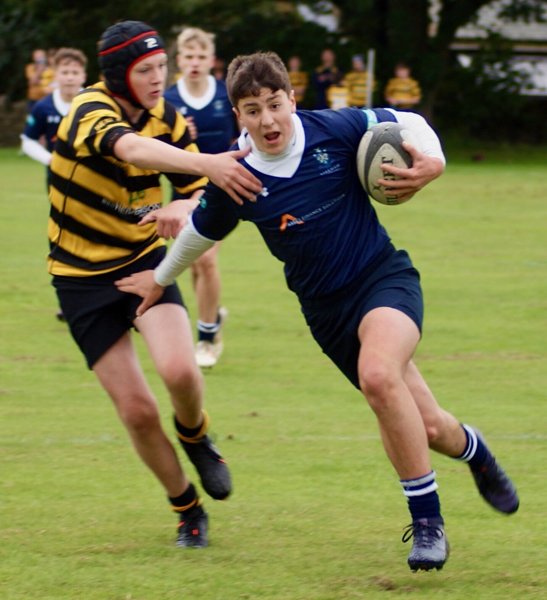 Rugby News
1st xv v Llandovery College
Kirkham Grammar School 1st xv travelled to Whitchurch Rugby Club, Shropshire to play one of Wales's most famous rugby schools, Llandovery College. KGS started promisingly but found Llandovery very difficult to breakdown. The score remained 0-0 for the first 20 minutes until a loose kick from Llandovery was collected by young full back Sam Carleton who glided his way between the defence for a fine individual try. This score seemed to settle KGS and, with Captain for the day Ollie Leatherbarrow leading by example, the Kirkham forwards started to control the game. Both forwards and backs started to inter-link and overlaps were created for both wingers Keir Gordon and Josh Lynch to get on the score sheet with Elliot Gourlay kicking two conversions to take KGS into a 19-0 lead. Llandovery tried desperately to fight back but just before half time young flanker Cammie Thompson finished off a strong KGS attack with another try in the corner.
Llandovery started the second half promisingly and KGS had to defend well to keep them out but as soon as the opportunity arose KGS got the points rolling with tries from Jonty Cope, Elliot Gourlay and another from Cammie Thompson. Despite the score, KGS were not completely dominant this and Llandovery kept making Kirkham work for everything, as reflected when the Welsh school got on the score sheet themselves with a fine individual try from their centre. Kirkham responded and gained further tries from Keir Gordon and the tireless Ollie Leatherbarrow to complete an excellent 59-5 victory. KGS U16 v Llandovery College
U16s v Llandovery
WON 36-14
The U16s enjoyed a physical encounter against a well-organised Llandovery side. Kirkham were first to cross the line with a try from 2nd row Harry Thomas, this was soon followed by a try from No.8 Rhys Frey who was looking particularly sharp. Both tries were successfully converted by Aaron Pope. Llandovery made their first line break form a scrum fifty meters out and it was their No.13 who had looked threatening from the off; his pace was too much for the Kirkham defence and Llandovery secured their first try. Kirkham dominated possession for the rest of the half and managed three further tries from Joe Medcalfe, Arron Pope and Yande Nkonge. At half time Aaron Pope was promoted to the 1st XV who were playing on the next pitch, meaning Kirkham had a re-shuffle in the back line. Gregor Anderson shifted from fly half to inside centre where he tackled well.
The second half was a tighter affair with only two tries scored, one from Llandovery and another from Kirkham's Harry Thomas. Final Score Kirkham 36 – 14 Llandovery.
KGS U15s rugby vs Crossley Heath School
Score: won 43-7
The under 15s, sponsored by Asset Finance Solutions, travelled to Halifax on Saturday to play Crossley Heath School. Kirkham dominated the early exchanges with Theo Timmins and Matthew Wright carrying the ball with good pace and power.
A good set move by the forwards saw Wright go over to make it 5-0. This seemed to kick KGS into gear as they score 3 more tries through Hayward (x2) and Sutcliffe to make it 22-0 at half time.
In the second half the home side came back into it and it took some heroic defence by Matt Oddie and Josh Stirrup to shut Crossley out.
The remainder of the game saw Kirkham dominate the possession and territory and score 3 more well worked tries through Zacharias, Sutcliffe and Hayward to complete his hat trick.
Special mentions to the back 3 of Freddie Tarrant, Ben Nicholls and Matthew Schmid who caused problems all day in broken field.
U14s v Crossley Heath
The U14s travelled to Crossley Heath for their first game of the season. After a positive pre-season they were keen to start the term with a win. Crossley Heath started the game on top, moving the ball well and testing Kirkham's defence. From then on Kirkham's sheer physicality and determination was too much for their opposition; good defence and fantastic running lines from Harry Reay proved to be the difference. Special mentions go to James Stacey, Tom Wilkinson and Jack Chapman for their great performance. Kirkham will be looking to keep this form moving throughout the rest of the season.