24 September 2019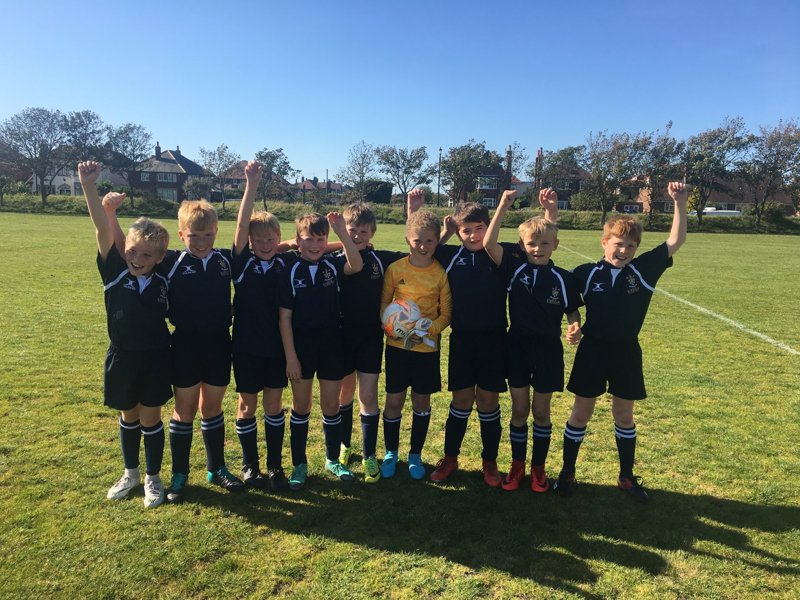 Swimming Gala - Monday 16 September 2019
Kirkham Grammar Schools mixed swim team started their season against QEGS Blackburn in a friendly gala. It was lovely to see the new 1st year pupils competing and they certainly didn't disappoint, winning most of their individual races and both relays. Evie Melia, Jake Presley, Ewan Huck and Harriet Sarsfield dominated at U13 level whilst Martha Millar, Hailey Ballantyne, Arianna Milligan and Emily Marsh proved unbeatable in the 4x50M freestyle relay.
In the older years Matthew Wright impressed in the 4x1 IM whilst Grace Wong won the individual breaststroke event.
Jess Millar, Imogen Moss, Sam Curran, Cameron Thompson, Hugo Chan and Harry Snape were outstanding in the senior events dropping minimal points throughout the gala.
A real team performance resulted in KGS not only securing victory in all individual age groups but also taking the overall victory with 239 points. A great start to the new season!
Kirkham Grammar Junior School Sport
Cross Country
On Wednesday 18 September, Kirkham Grammar Junior School travelled to Scarisbrick Hall School for an invitational Cross Country competition involving Scarisbrick Hall, Westholme, Bolton School, Manchester Grammar, Merchant Taylors and Alderley Edge School.
Kirkham recorded the following individual positions:
U10 Girls
8th Phiippa Hancock
10th Hermione Edwards
11th Raia Trend
12th Hollie Bailey
16th Olivia Norcross
17th Holly Schofield
21st Imogen Osborne
25th Ellie Wu
26th Isabelle Campbell
U10 Boys
2nd Freddie Wiltshire
3rd William Thompson
4th James Wileman
13th Jonty Faith
14th Tumi Milligan
20th Billy Margerison
21st John Watson
U11 Girls
11th Regan Lowe
18th Zara Gilchrist
19th Poppy Pickervance
20th Emily Greenwood
22nd Evelyn So
27th Issy Gut
29th Alice Bunday
U11 Boys
9th Bertie Jones
11th Tom Barton
19th Evan Twose
23rd Adam Jackson
34th Henry Allison
36th Jack Dawson -Gerrard
42nd Tom Bellamy
47th George Aldeen
Over 30 runners represented the school and everyone performed with credit.
This was ideal preparation for the forthcoming AJIS Championships on Wednesday 2 October. Congratulations to all the participants and thanks to Scarisbrick Hall for organising the event and their hospitality.
Football
On Friday 20 September, KGJS participated in an U11 boys' football tournament at AKS involving Bolton School, Rossall and Oldham Hulme.
Kirkham performed really well and recorded 1 win and 3 draws which enabled them to advance to the next phase of the very prestigious AJIS Tournament.
Rugby
On Saturday 21 September, Kirkham Grammar Junior School hosted the second rugby festival of the term. This week it was the turn of the U10s. Four team were involved: Kirkham, Preston Grasshoppers, Tarleton Rugby Club and St Mary's Hall and everyone had a thoroughly enjoyable morning of rugby. The KGJS U10s won two and drew one.
Hockey – Saturday 21 September
KGS v Cheadle Hulme
The U12A and B team took to the pitch for their first games of the season. The girls worked hard to attack and defend and keep the ball in their attacking half.
Freya Peet and Amelia Sharpe played extremely well in their new positions of GK, to clear the ball in order for us to attack. Poppy Dodds and Libby Langley has attempts on goal whilst Leoma Gill came close to finishing in the other game. Lola Cooper worked extremely hard in midfield creating chances for the forwards to attack on goal.
Unfortunately both results didn't go their way but they took lots of positives away from the first fixture of the season.
The U13s won 2-1 against Cheadle Hulme thanks to goals from Georgia Nichols and Lilly Jones. After being unfortunate to lose last weekend, the KGS girls started the game with great determination and energy. The defence and midfield held a strong shape, ensuring attacking players were marked tightly and making it hard for Cheadle to break through. After being forced to defend early on the KGS girls grew into the game and started to play some lovely hockey which nearly created the opening goal for Frankie Margerison. The first goal came from a short corner, Lilly Jones shot from top D was blocked by a defender into the path of Georgia Nichols who swept the ball home. KGS continued to attack for the rest of the half but were caught out on the break by a direct Cheadle attack to leave the score 1-1 at half time.
In the second half KGS continued to dominate and attack the Cheadle D. Direct running from Georgia Nichols, Keira Tomes and Alexa Anderson caused the Cheadle defence problems but they couldn't find a way through to goal. Deservedly, KGS scored a winning goal as Lilly Jones picked the ball up on the edge of the D and swept a shot hard into the goal to make it 2-1.
The U14 girls performed extremely well against Cheadle Hulme. The girls hit Cheadle hard from the whistle closing them down quickly and counter attacking with real pace. Captain Anya Jackson made 3 top saves and the defence of Martha Millar, Millie Homan, Emily Marsh and Rebecca Fisher were rock solid.
Jasmine Schofield, Vice-Captain Maisie Bailey and Ariana Milligan controlled the midfield with Jess Cole causing chaos up front for the Cheadle defence supported by Rachel Watson, Alyssa Threlfall and Sophie Birchall-Farr. The team shape was very good indeed and the work rate of each and every girl was terrific! Goals from Jess Cole and Rachel Watson gave Kirkham a thoroughly deserved 2-0 win.
KGS 1st XI hit Cheadle hard from the first whistle. The girls produced wave after wave of attack in the first half but failed to produce any clear cut chances. The team shape was far too narrow in the first half, however, the second half was a different story. The girls played with real width and depth as they hit Cheadle hard from every angle. In attack Kirkham were dangerous every time they got in the end quarter. The defence had little to do as KGS dominated completely. Goals from Emma Savidge, Dani Merrick and Natasha Hartley-Smith gave Kirkham a thoroughly deserved 3-0 win.
KGS Rugby
Kirkham Grammar School 1st XV played a very tenacious Sir Thomas Rich School from Gloucester. KGS started well with young winger Josh Lynch scoring a try early on converted by centre Elliot Gourlay. Despite this fine start KGS then struggled against a side who were very focused and played with heart. In fact, it was the Gloucester side who scored next with a penalty. Put under pressure for the first time this season, KGS responded well with a fine try for prop Corey Bowker again converted by Elliot Gourlay. KGS this time maintained their momentum and Josh Lynch scored another try after some excellent inter linking between backs and forwards. A half time lead of 19-3 should have been enough to take KGS to a clear victory, however Sir Thomas Rich were not for being swept aside and responded and closed the gap to 19-13 very quickly. Kirkham were forced to dig deep and increased their lead with a penalty from Elliot Gourlay and a fine team try for scrum half Jonty Cope which gave them a 29-13 lead. Again, the Gloucester school responded with a converted try as the match ended with a 29-20 victory for KGS.
KGS Rugby - Saturday 21 September v St Ambrose College
Headmaster's 1st XV
St Ambrose College 17 KIRKHAM 3
Kirkham only had a solitary penalty kick to show for their hard work and endeavour after Saturday`s game against a full St Ambrose 1st XV. Kirkham started slowly and were soon two tries down which both came from deft chips to the corners. Kirkham conceded a third from a scrum in the middle of the field which left them 17-0 in arrears from early in the game. To their credit, the Kirkham forwards battled bravely and looked a lot more organised with Louis Fletcher and Sam Parker driving tirelessly. Ewan Macaulay cut the Ambrose defence open on two occasion but couldn`t quite link up with his support to finish off the opportunity. Aaron Pope landed a simple penalty right at the end of the first half to cut the deficit to 17-3.
The second half remained scoreless as Kirkham attacked and defended with more vigour and determination but could not quite breech the Ambrose line. Tane Bentley, from the back-row, came more into the game as the home forwards tired and Jake Parkinson was as industrious as in the previous two games. Overall this was a much more encouraging performance from Kirkham in their first real test of the season.
2nd XV v St Ambrose College
WON 43-28
The 2nd XV travelled to St Ambrose College on Saturday morning with a squad predominantly made up of U16 players. The team prepared well and knew that if they could win the race to the gain line in attack and defence, they had a chance of creating some opportunities. This happened earlier than expected with Captain Yande Nkonge breaking free from the St Ambrose defence to score Kirkham's first points. Soon after, St Ambrose responded with a try of their own. However, following some strong ball carrying from the Kirkham forwards, centre Harry Thompson barrelled through to score under the posts and minutes later Harry Thomas scythed through to score Kirkham's third try. Kirkham winger Sky Lo scored one more try before half time, and with stand-in goal kicker Tom Hoad successfully kicking two out of four conversions, the score at half time was 24-7.
Kirkham got off to a flying start in the second half scoring three tries. Yande Nkonge picked up his second and Harry Thompson scored two more to complete his hat trick. As the Kirkham side started to tire later in the game, St Ambrose began a bit of a comeback scoring three tries of their own. However, the damage had been done and Kirkham managed to hang on and win the game 43-28.
U15s vs St Ambrose College
The U15s were involved in a thrilling match last Saturday which went down to the very last minute. Despite leading for most of the game, it took a heroic defensive display in the dying embers to enable Kirkham to take a 25-24 win.
On a crisp Saturday morning, in conditions that were perfect for playing rugby, Kirkham Grammar started strongly scoring 2 tries through with some good forward play. Matthew Wright scored from close range, after a period of dominant carries and James Sutcliffe added a second shortly therefore with an equally powerful run. Read added the extras to put Kirkham 12-0 up after 15 minutes and well on top.
Not to be outdone, the powerful Ambrose side came back and applied some good pressure on the home team, but the defence held firm to keep the visitors at bay, thanks for some excellent defence by man of the match Saul Penn and Matthew Oddie.
Unfortunately, a lack in concentration saw Ambrose score a deserved try out wide and it was very much game on at 12-5 as the half time whistle went.
The second half saw St Ambrose score immediately but crucially the conversion was missed (12-10). Credit to Kirkham as they came back with another period of dominant play and along with a couple of crucial turn over scrums, thanks to the power of Theo Timmins, Harvey Thompson and Josh Stirrup, the blues gained some key field position. Archie Dowds, who had been mercurial all day, linked up well with Read and Haywood to score in the corner (17-10), this was followed up with what would turn out to be a crucial penalty kick from Dowds. The try of the match followed as Kirkham's executed a beautiful flowing set of phase play, which saw them move the ball from the right to left hand touchlines and then back again with Ben Nichols being the recipient of the try to put Kirkham 3 scores ahead at 25-10.
The spirited St Ambrose outfit came back into the game as their forwards started to get some go forward, which saw KGS concede several penalties. They were rewarded with a high quality try of their own and with 5 minutes to go the score was 25-17.
Ben Wiggins, who had been in fine fettle all day, was unlucky not to score but he had put in some crucial tackles to hold the defence firm. However, with the time expired, Ambrose score the last play of the game to make the final score 25-24.
U14A v St Ambrose
KGS U14A team also had a huge game at home v St Ambrose. A hugely physical, open game allowed for several long ranged tries in the first half. This continued in the second half with the score favouring one side then the other. Seb Kelly led from the front with a physical performance. Kirkham snatched it in the last minute with a try from Wills Gutt. A gutsy performance from all! Well done.
U14B v St Ambrose
KGS 7 v St Ambrose 45
The visitors started strongly and were soon three tries up after some weak defence from Kirkham. However, with Alex Maude, Luca Green and Charlie Allenby leading the way, Kirkham fought back and were much better defensively in the second half especially when St Ambrose brought on their substitutes. Kirkham's scrum was solid and an exciting period of play from Finlay McLachlan and Sean Xiao involving two quick rucks saw a great try from the debutant Colin She in which he showed great strength and his potential for the future. It was pleasing to see so many boys playing with a positive attitude against a very strong team.