8 November 2019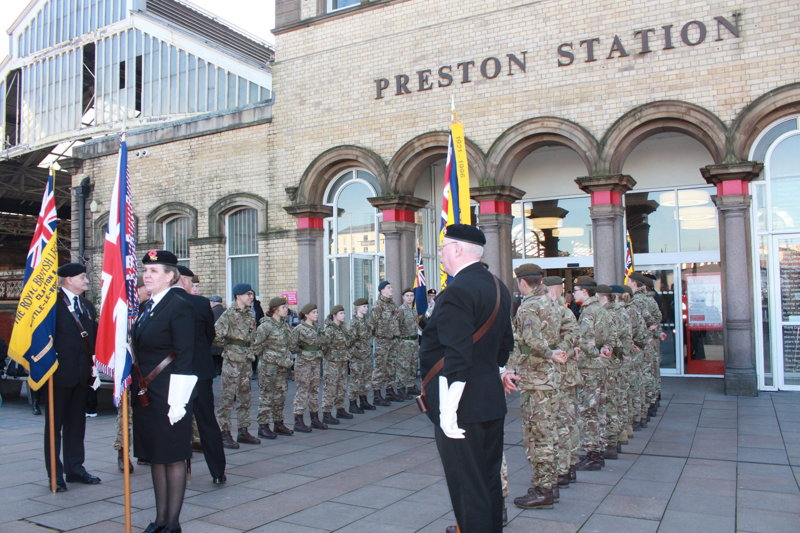 This morning, sixteen KGS CCF Cadets took part in a Guard of Honour for 101 year old World War II Veteran, Ernest Horsfall. The cadets proudly represented school as Mr Horsfall arrived at Preston Train Station to embark on his journey to London to take part in the National Festival of Remembance at the Royal Albert Hall this weekend.
Ernest Horsfall was born on 21 April 1918, the very day that the First World War ace, The Red Baron was finally shot down - and the same year the Royal Air Force was formed. After more than half a century piloting light aircraft, aviator Ernie, who has more than 3,000 flying hours to his name, is still working at the grand old age of 101. Despite having to stand down as a Pilot in Command at the age of 93, only because insurance companies would no longer cover him at the controls, Ernie still gets up in the co-pilot's seat and continues to work as an official aircraft inspector for the Light Aircraft Association. Locally, he ensures any work carried out on the aircraft of Mr Terry Cook, father of Old Kirkhamian, Esther Hall, is to the right standard and also gives it a full annual inspection required by law.
Cadets, Reuben Bond, Jonny Latham and Margaret Hodgson were interviewed by BBC News, ITV news and Radio Lancashire, all commenting what an honour it had been to be part of today's proceedings.
The photographs can be viewed via the slideshow below. Watch full coverage of today's Guard of Honour on BBC and ITV news tonight at 6pm/6.30pm.