20 March 2020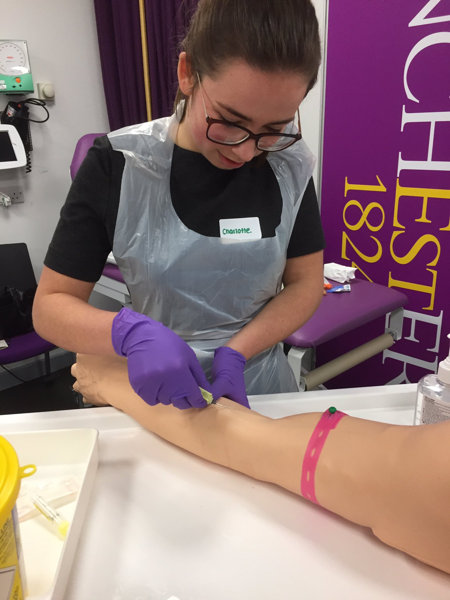 Kirkham Grammar School Lower Sixth 'budding medics' were privileged to have experienced the 'Doctor for a Day' initiative run by Royal Preston Hospital, in conjunction with Manchester University Medical School. Our students were forewarned that it was not a course for the faint hearted but our Lower Sixth medics are made of 'stern stuff' and were willing to embrace the challenges the course presented.
The day started with an introduction to the course and quickly proceeded on to diagnostic radiography which had the students studying X-ray plates and CT scans, and in conjunction with the third year medical students, established a diagnosis. Blood pressure was their next venture into medical care and they quickly got to grips with both the manual and digital measurement of blood pressure, which is more difficult than it looks!
Their next port of call was phlebotomy and with the help of a synthetic arm and a supply of fake blood, they all managed to fill a vial or two of blood for analysis. Finally, they were thrown into the chaos and trauma of an A & E ward, complete with a simulated RTA patient that even managed to move, breathe and blink.
The whole experience was an incredible opportunity to examine and be involved in some critical aspects of medicine that medics deal with on a daily basis. It was an informative, inspiring and incredibly enlightening day and we are very proud of the performance and achievements of every one of the students.