17 March 2020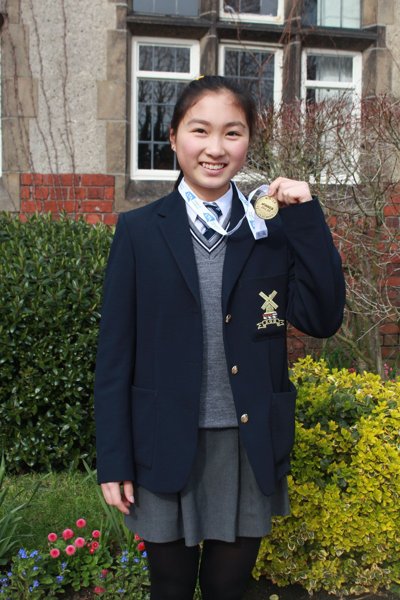 Further tennis success for Yandy Shek
Congratulations to KGS Third Year pupil, Yandy Shek, who won the Winter Regional Tour U18 Girls' Competition at Birchwood Tennis Club this weekend. Commenting on her achievement Yandy said, "I was delighted to win the U18s regional competition this weekend and to beat the U18s number one seed was a great moment for me!".
KGS boys represent Lancashire
Three KGS Fourth Year pupils, Charlie Read, Matthew Wright and James Sutcliffe represented Lancashire in their match v Yorkshire on Sunday winning 22-17. Congratulations on your team selection.
Saturday 14 March - U16s at Sedbergh Sevens Tournament Winners
The KGS U16 sevens continued to impress at the weekend winning the highly competitive Sedbergh Invitational Tournament. Kirkham topped their group beating Woodhouse Grove 28-17, Sedbergh B 17-7 and RGS Newcastle 52-0. Ethan Crompton, Rhys Fray, Archie Dowds and Joe Medcalfe were impressive in defence whilst Jake Merrick, Sky Lo and Tom Hoad added a great deal of impact from the bench at crucial times.
Kirkham met Barnard Castle in the semi-final. Barney were very competitive in the first half, however Kirkham's pace and power proved too much for them to contain and Kirkham progressed to the final winning 40-5.
Kirkham met Woodhouse Grove again, after they beat Sedbergh A in the other semi-final. Kirkham got off to a flying start with Harry Thompson powering in to score the first points of the game. Kirkham defended well and made it very difficult for Woodhouse to generate any momentum. Tobias Parkinson, Josh Lynch and Yande Nkonge scored three more tries, and with skipper Aaron Pope successfully converting three of them, it made the final score 26-0.
U11 Boys Hockey
On Monday 9 March, Kirkham U11 boys hockey team took part in the Lancashire Hockey Tournament which was held at Preston Sports Arena. Five schools took part and Kirkham recorded the following results:
v Rossall won 2-0
v AKS won 3-0
v Ashbridge won 1–0
v Scarisbrick Hall won 3-0
These results in the round-robin tournament meant Kirkham became Lancashire Champions and now go forward to the North of England Finals at a later date.
U11 Boys Hockey v Preston Hockey Club
On Saturday 14 March, KGJS U11 boys played Preston Hockey Club. The weather was glorious and this was matched by excellent hockey from both sides. The enthusiasm and sportsmanship displayed was fantastic and the many parents who came to spectate were treated to a very enjoyable morning of hockey
U11 Girls Hockey Team on a roll!
U11 girls' hockey team are on a roll all the way to the North of Hockey Finals. The team have performed well in the group stages of the competition and last week competed at the North West Round at Manchester High School for Girls finishing third overall. The top four school progressed into the final round of the competition. The team have been working extremely hard in training to prepare for the next stage of the competition and recently returned from the Isle of Man from a sports tour.