12 June 2020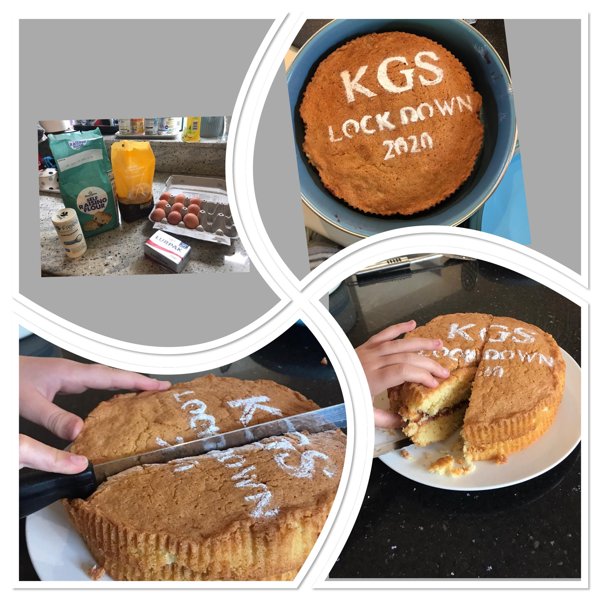 Our new house challenge was launched last week which was a huge success. Our pupils fully embraced this week's second challenge to create something in the kitchen using only five ingredients. We had a record number of entries, with the Kirkham Challenge inbox soon full and us having to be increase capacity to allow for the pupils' submissions. Yet again it proved extremely difficult to pick our winners. The winners are as follows;-
Eleanor Smith (KGS Lockdown 2020 Cake), Jack McKenzie (Chicken & Mushroom Dish), Henry Bolton-Peall (Fruit Crumble), Zoë Armstrong (Humous), Grace Tomlinson (donut cake), April Wright (macarons), Alyssa Davies (chocolate chip cookies), Harry Thompson (blueberry muffins), Siôned Jones-Blanco (Revuelto de verduras con queso Feta), Will Prior (meringues, strawberries and cream), Keira Tomes (healthy flapjacks), Finlay McLachlan (omelette), Glenn Packer (scones).
All pupils from the First Year through to Sixth form are encouraged to enter, either individually or as a family. The challenge replaces lessons to give our pupils a welcome break from their studies and will be released at 12.30 pm on each of the pre-advised dates in their Google Classroom form.
They have 3 hours to complete it, with half an hour to video their entry and email it to:
kirkhamchallenge@kirkhamgrammar.co.uk.
Please ensure any entries include your son/daughter's name and the house they belong to: School, Fylde, Preston or Kirkham.
All entries will receive one house point and winning entries will receive three house points.
All entries must be received by 4.00 pm on the day the challenge is set. Any late entries will not be counted.
We look forward to your participation again for our final challenge on Wednesday 17 June at 12.30pm.
Congratulations to this week's winners and to all who participated!
Below is a video clip of this week's winning entries and some of the close contenders...