19 October 2021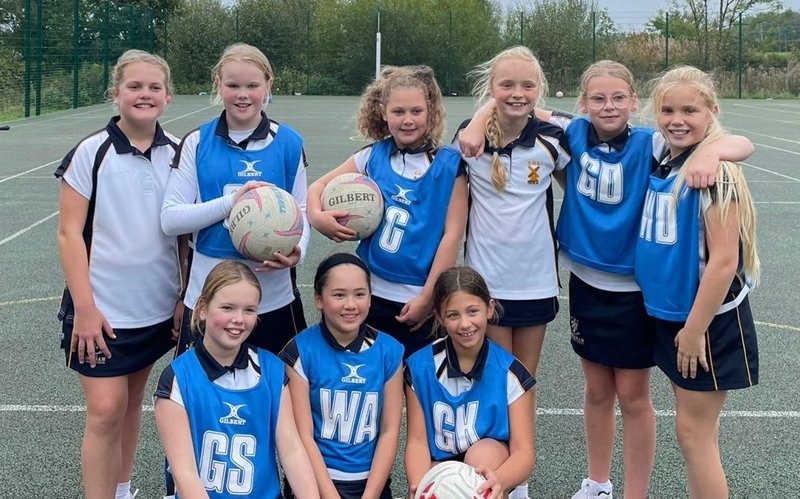 (Pictured above - J4 Girls Netball Team)
Hockey
KGS v Wakefield Girls High School Cup Match - 12 October 2021
KGS had a slow start to the game but this soon picked up as KGS switched on their A game. KGS kept working the ball around their players with a few breaks into their end but no success was achieved. Wakefield had a few breaks but KGS stayed solid at the back with Lilly Hunt controlling the defence and making some great saves. KGS worked it from the back and up the pitch to greatly place Eva Berry to slot away our first goal. This was soon after followed by another - making it 2-nil at half time.
A quick well-worked goal by Georgia Nichols started the second half. Wakefield continued to play with speed and determination showing their game was not over: this proved correct with a goal 3-1. However, KGS still had a win in their sights. This was shown by another goal taken at the top of the D by Martha Millar, and Eva Berry finished the game the way she started with a final goal.
Final score 5-1 to KGS.
1st XI v St Peter's York
The 1st XI travelled to St Peter's York last Wednesday for their final game before the half term break. They made a great start to the game demonstrating real commitment all over the pitch. Great build up play from the back four set Dani Merrick free down the left-hand side releasing the ball to Hartley-Smith to convert. St. Peter's hit back with a goal from open play in the 19th minute. Amy Merrick and Jasmine Schofield made some excellent runs in the midfield allowing forwards Cole and Harkins to run riot before Natasha Hartley-Smith converted for the second time. The second half brought much excitement but no further goals for either side leaving the score at 2-1 to KGS at the final whistle.
KGS Hockey v Withington Girls School
U12 A VII
The U12 squad displayed some excellent play on Saturday putting into action what they had practised during training. From the start whistle the girls dominated, staying tight at the back and working hard as a unit to create chances in front of goal. Some great open play set Hollie Bailey through on goal to convert followed by a further two conversions from Ophelia Loggenberg and Holly Schofield. The squad continued to work for each other throughout, creating chance upon chance in front of goal. The final score was 7-1.
U12 B VII
The U12 B squad had a great start to the match with Jasmine Stirrup and Chloe Murro dominating when in possession of the ball. Some great defending and distribution from Alys Williams allowed KGS to convert early in the second half with a great open play goal from Abbie Ely. A further two goals were later converted from Marrisa Kerr and another from Ely.
A great 3-0 win to end the first half term of matches.
U13 A VII
KGS meant business from the start whistle dominating all over the pitch. Emily Greenwood proved a force in the middle controlling play and setting forwards Zara Gilchrist and Libby Sidebotham through on the goal. It wasn't long before the goals started to come - first from Greenwood and then from Gilchrist. Some great attacking runs from Xara Lewis opened up space for the attackers to run riot upfront resulting in numerous goal being scored. Final score 13-0 to KGS.
U13 B VII
The U13 squad played some excellent hockey against a good Withington side. Jess Grice was integral at the back in making some excellent tackles and working the ball forward to Niamh Smith and Tilly Tomlinson. The girls had several chances up front but it wasn't until the second half that they were able to convert. The final score was 5-0 to KGS.
Swimming
This weekend three KGS swimmers competed in the Burnley Bobcats championships at Darwen Leisure Centre. KGJS pupil Imi Osborne and 5th year pupils Martha Millar (both Preston SC) and 3rd year pupil Scarlett Tushingham (Fleetwood SC) competed in various events securing county times for the season ahead. The competition was tough with over 15 team competing for top spot in the competition. Well done to all three swimmers!
---
Junior, Infant and Pre-School
U8s AJIS Rugby Festival at Manchester Grammar School
On Monday 11 October, Kirkham U8s travelled to Manchester GS for the AJIS Rugby Festival. This was the U8s' first opportunity to represent the school. The conditions were perfect and everyone had a thoroughly enjoyable afternoon. All players improved their overall skills and understanding of the game. The team played 5 games and managed to win 3, draw one and lose one. Many thanks to MGS for organising the festival.
U11 Football v Birkenhead School
On Wednesday 13 October, Kirkham U11 football team travelled to Birkenhead School for the group stages of the AJIS CUP. Kirkham played 3 games v Birkenhead, Stockport GS and Bridgewater School. We unfortunately did not win a game but everyone gave 100%. The school came 4th in the group and now progress to the Plate tournament which will be held in January.
U11 Netball v Stonyhurst
On the same day, Kirkham U11s and U10s played in their first netball fixture of the season away at St Mary's Hall, Stonyhurst. The fixture was a festival for Year 5 and 6 to gain plenty of game experiences playing in a variety of playing positions. All players got to put their skills into action and improved their understanding of the game. This was a perfect way to prepare the girls for the netball season ahead.
Many thanks to SMH for organising a great festival.