14 March 2017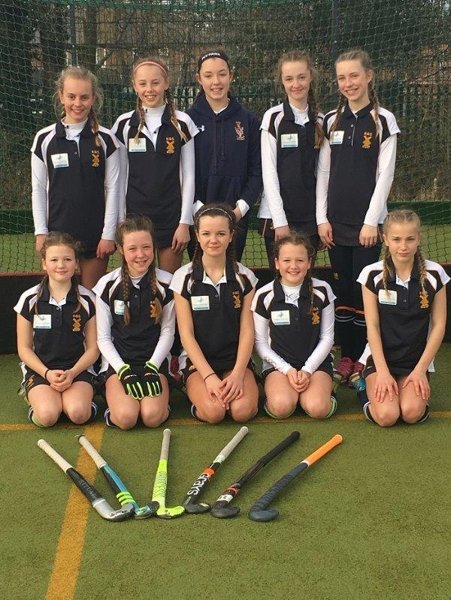 The U13 squad had an early start on Wednesday 8 March as they travelled to The Grange School Hartford for the U13 In2hockey Regional Finals. The tournament was a round robin format which meant plenty of Hockey throughout the day.
The girls met Altrincham first and worked hard from the start. Beth Dowbiggin created chances going forward with great support play from Libby Baxter. As the game went on KGS dominated and it was clear that they had the upper hand going forwards. It wasn't long before a great run by Bo Madden was passed into the 'D' for Beth Dowbiggin to convert in the roof of the net. The next game was Liverpool College. The team dominated from the start, making piercing runs from the midfield to create chances up front for the forwards to convert leaving the final score at 5-0. Sedbergh were up next and the KGS girls were certainly ready! From the start whistle the girls worked as a unit move the ball around the pitch creating spaces up front for the forwards to run riot. Once again, composure proved key and before long the girls converted their first goal. Two more left the final score at 3-0 to KGS. King Ecgbert School were up next. Solid play all over the pitch resulted in success from the start with the first goal being converted in the first few minutes of the game. Great tackling in defence resulted in the early ball being played up front for the forwards to convert on two other occasions leaving the final score at 3-0. The final game saw KGS meet The Grange School. With both teams set to qualify for the North England Finals it was pride that we were playing for! End to end play with a high turn over of ball meant it was anyones for the taking. Unfortunately The Grange converted from a well struck penalty corner sealing the game at 1-0. A fantastic day of Hockey! KGS now look forward to the North England Finals in Leeds on 21st March.
Well done to all involved: Beth Dowbiggin (Captain), Izzy Harkins, Izzy Kane, Grace Barber, Libby Baxter, Agatha Barker-Mill, Lexi Fraser, Bo Madden, Hattie Madden and Poppy Kearsley.