30 September 2019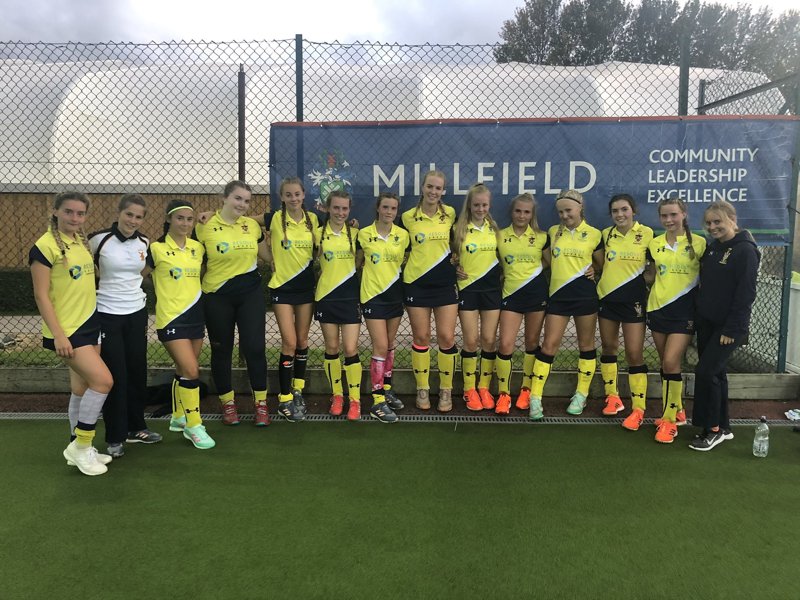 Hockey
The 1st XI had a long trip down to Millfield School, Somerset for their annual fixture. The school were trialling a new event: 'Friday Night Lights'. The girls played in the centre of school with lots of support from the pupils, parents and coaches. It is always a tough fixture for the 1st XI - fast, skilful and highly competitive.
The KGS girls struggled to retain possession initially but once they had settled the game became much more even with both sides having ample chances on goal. Lucy Case made some excellent saves in goal with Jemima Towers, Libby Baxter and Amy Merrick clearing well from the back. Some great runs from the midfield enabled Anna Wilkinson and Natasha Hartley-Smith time on the ball and opportunities on goal. Unfortunately Millfield went 1-0 up leaving KGS chasing in the latter stages of the game. However, it was a great all round performance with many positives to take away.
The girls now look forward to their first England hockey game this week when they travel down the road to Rossall School.
U14 v King's Chester
On Saturday 28 September KGS' U14 girls competed against King's Chester. The girls hit the opposition hard from the first whistle and went 1-0 up in the first 30 seconds with a great strike at a short corner from Emily Marsh. From that point the first half was well contested. KGS were rock solid at the back, controlled the midfield and attacked with real pace. Rachel Watson shone in the centre of midfield. A further two goals in the second half from Rachel Watson and Alyssia Threlfall gave the girls a well-deserved 3-0 victory.
U13 v King's Chester
The U13s played some fantastic hockey as they beat King's Chester 7-0. KGS dominated the game throughout and created chance after chance as the attacking play focused on in training was put into action on the pitch. Frankie Margerison opened the scoring as she forced the ball home from close range. KGS followed this up with goals from Lilly Jones, Alexa Anderson, three from Evie Mellon and another, late on, from Frankie.
KGS played some fantastic passing hockey which was summed up by the 6th goal as the ball was moved quickly from a hit put down the left hand side with three quick passes. Eva Berry and Alexa Anderson combined well in the D to create space for Evie Mellon who drilled the ball into the bottom corner.
U12A v King's Chester
The U12A team came up against a very strong King's Chester team and, despite their efforts, found themselves 5-0 down. Freya Peet made some good saves and Natalie Smith was tenacious in defence. In the second half KGS improved and marked players in the D much tighter to limit the number of chances King's had. In attack, Poppy Dodds and Sophie Rawlinson kept working hard in attack and created some good chances which were well saved by the King's goalkeeper. Despite the 8-0 final score, KGS kept working hard for each other right until the very end of the game and showed great determination throughout.
U12B v King's Chester
The U12B game started with an early goal from Kings but this resulted in a determined effort from the KGS girls and their hard work was soon rewarded with three breakaway goals, two from Lola Cooper and one from Zea Trend with great support from Nya Collinson. After half time the girls were resolute in defending their 3-1 lead and, despite a renewed effort from Kings, the back line of Abigail Southern, Rosie Helliwell and Lilli Moulding along with some great kicks from first time goalkeeper Jessica Jennings kept the scoreline secure. Well done girls on some great teamwork.
Rugby
1st XV v Lancaster RGS Won 43-5
Kirkham Grammar School 1st XV continued their winning ways with a pleasing 43-5 victory over a talented Lancaster side. In this traditional local derby, it was Lancaster who started the better of the two sides as they took a 5-0 lead in the opening minutes after a defensive lapse by the KGS backs. KGS responded straight away with the back row of Ethan Caine , Ollie Leatherbarrow and Cammie Thompson showing up well . Eventually after some pressure Lancaster started to make mistakes and Kirkham took advantage of the space created by the forwards , Ollie Leatherbarrow (with 2 tries), Elliot Gourlay and Joe Higgins were all to benefit and get over the try line to give KGS a 24-5 half time lead. Despite Lancaster digging deep, KGS continued to pressure Lancaster and further tries were scored by Vittorio Bianchin, Ethan Caine and young debut making fly half Aaron Pope as KGS went on to complete a fine victory over a very competitive local rival.
2nd XV v Lancaster RGS Won 40-21
The 2nd XV rallied after the loss of Captain Oliver Barnett, who was injured at the kick off, to score five tries in an impressive performance at Lancaster. Kirkham took the lead after Miguel Costa crashed over from close range. More Kirkham pressure after the initial try resulted in Fly half Harry Swayne kicking two neat penalties to extend the lead to 13-0. Lancaster hit back with a try after some sloppy play by Kirkham. Hooker Sam Parker and prop Louis Fletcher carried well and made huge inroads through the Lancaster defence. This gave Kirkham huge momentum and allowed the rampaging Fletcher to go over from a quick tapped penalty to take the score to 21-7. The hosts scored another try to close the gap which remained at 21-14 at half time.
Kirkham began the second half with a bang, Ben Haworth intercepting a pass to sprint over from 30 metres, Harry Swayne converting. By now Kirkham were in full swing, attacking with purpose but still prone to some errors, one of which let Lancaster back into the game with a try. Alas Kirkham hit back to score their fifth try through Tane Bentley, who also carried well in the second period of the game. Harry Swayne kicked a third penalty and converted Bentley`s try to take Kirkham over the 40 point mark to round off a superb all round performance.
U16 v Lancaster RGS Won 40-13
A very physical contest in the first half with Kirkham powering over just before half time with a try from second row Nathan Gregan. Lancaster had kicked a penalty making the half time score 7-3. Kirkham dominated territory in the second half with some clever kicking from scrum half Charles Mcnamee and full back Archie Dowds. Prop Bailey Whitehead scored from close range and Lancaster responded with another penalty kick. Kirkham centre Harry Thompson scored two tries following some nice play from the Kirkham back line. Lancaster then replied with a well-executed lineout move down the blind side channel. Kirkham's Thompson scored again, picking up yet another hat trick, and winger Tobias Parkinson scored Kirkham's final try with a fantastic individual counter attack. Archie Dowds converted five of Kirkhams tries making the final score 40-13 to