14 November 2019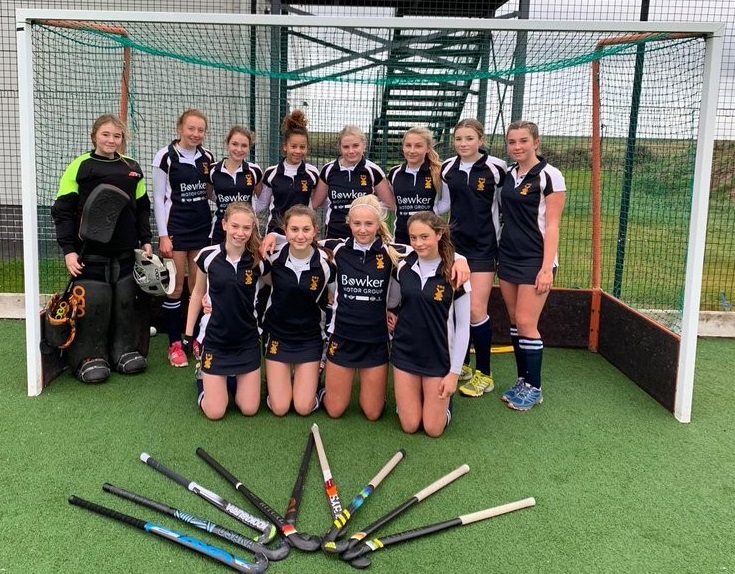 Weekly Sports Reports 11/11
Hockey
England Hockey National Cup
The 1st XI played in the 2nd round of the England Hockey National Cup on Wednesday away at Rossall School. The girls dominated from the start working the ball around to cause havoc up front. The first goal came from a short corner that was hit by Jemima Towers. Attack after attack resulted in corners and very well-worked routines. Natasha Hartley-Smith sealed the game with a well taken one on one with the keeper. KGS will now play St Peter's York at home.
U14 Regional Finals
After qualifying for Regional Finals, KGS travelled to Timperley HC to take on other county winners and runners up.
The girls played with real finesse and grew as a team throughout the tournament.
They beat Manchester High 2-0, Alderley Edge 2-0, Merchant Taylor's 12-0 and Austin Friars 4-0. This secured a place in the North Finals which will be played in Leeds in mid-November.
Rugby
2nd XV Rugby v Sedbergh
KIRKHAM 24 SEDBERGH 24
This was a superb game for the neutral spectator who watched two well matched sides battle it out from start to finish. Kirkham enjoyed the early pressure with some pulsating drives from the forwards but couldn`t break through the Sedbergh defence. Against the run of play, Sedbergh broke away and after a mix up in the home defence, scored close to the posts to take a 7-0 lead. Kirkham scored a try immediately from a scrum with Captain and No 8 Oliver Barnett breaking down the blind from 25 metres to go over in the corner, Sihlalo Benge converting. Centre Adam Spence scored Kirkham`s second try with a fine break and dummy but the conversion was missed. Sedbergh, who took every opportunity they could, actually took the lead 14-12 following an interception and this was the score at half time.
The second half saw Kirkham really switch on: prop Louis Fletcher secured two crucial kick offs, Tane Bentley carried superbly and Sam Parker at Hooker tackled until he dropped. Kirkham took the lead through Benge as he scythed through the Sedbergh cover to go over under the posts and convert his own try. Sedbergh levelled the game at 19-19 before Terance Heidtmann finished off a driving maul, following a line out, to take the hosts ahead 24-19. Sedbergh levelled once again wide out but could not convert to take the lead. Kirkham had a long range penalty kick to win the game with 8 minutes remaining but the kick drifted wide. After this both teams defended valiantly but neither attack could breech the solid wall in front of them.
1st XV v Queen Ethelburga's School, York
After a 3 week break from playing, Kirkham faced Queen Ethelburga's School, York. After a frantic start Kirkham opened the scoring with a try from Captain Ethan Caine which was quickly followed by a try by winger Keir Gordon. Despite this good start the York school responded with some strong defence which eventually led to a KGS mistake. Ethelburga's scored a converted try just before half time, with the score going to 10-7. Immediately KGS responded, allowing centre Owen Fisher to finish in the corner, this was converted by Elliot Gourlay. Kirkham edged out to a 17-7 half time lead. However, the second half was a different story with KGS turning on the style with a number of well worked tries. Ethan Caine once again powered over for a try which was quickly followed by tries from Aaron Pope, Marcus Blake and Tyronne Heidtmann. Kirkham continued to put the pressure on and Fly Half Elliot Gourlay finished things off with a brace of tries and a match contribution of 24 points. Final score KGS 59 Queen Ethelburgas 7.
U15s
The U15s made the long trip to Queen Ethelburga's in York and were greeted by an excellent 4G surface. Kirkham controlled most of the running throughout the first half, although lacked accuracy at key times which meant the score was only 7-0 thanks to an excellent Archie Dowds try.
The second half saw an improvement in the fluency of Kirkham's play and the blue and whites were able to add 3 tries and 2 conversions. A superb Matthew Oddie grubber put KGS into the QE's 22 metre line and after a series of closer quarter drives, James Sutcliffe dived over for the 5 pointer. The last 10 minutes saw Kirkham score 2 excellent tries from their own try line.
After some excellent handling by Charlie Read, Aiden Hayward, made great ground beating 2 defenders and then slipped the ball to Harry Reay who ran under the posts. This was followed by an even better effort 2 minutes later. Matthew Wright made a crucial turnover and with a good speed of thought, Will Austin moved the ball to Hayward who again made a good line break. Reay was in good support and then offered a sublime offload to Freddie Tarrant who ran unopposed to finish the scoring at 26-0.
Under 13 Rugby v Queen Ethelburgas
Despite their proud effort and scoring tries in both halves, it was unfortunate that KGS' U13s lost 40-20 on Saturday.
The key reason for their defeat was the sheer size of the opposition. Jenson Stott was heroic but too often than not, the rest of the players arrived too late and he was physically pushed off the ball in counter ruck. KGS' rucking technique was good and they played the better technical rugby as a team.
Guthrie and Firth were excellent in tackling and the scrummage was promising. Taran Mathauda played well throughout and scored an excellent try, cutting in on a different angle. Ben Firth captained by example and was man of the match scoring a hat trick of tries.
U16 v Merchant Taylors, Crosby
9-26
Merchants Pen 3
Merchants Drop 3
Kirkham Try Frey 5 Con McNamee 2
Kirkham Try Nkonge 5 Con missed
Merchants Pen 3
Kirkham Try Thompson 5 Con McNamee 2
Kirkham Try Sky Lo 5 con missed
The U16s travelled to Crosby on Saturday morning ready for what is always a tough encounter. Merchant Taylors controlled the first half well, securing possession and kicking well into space in the Kirkham back field. Kirkham struggled to win the territory battle, however Rhys Fray, who had an outstanding game, managed to score a try just before half time. Charles McNamee successfully converted, making the half time score 6-7.
Kirkham had to change tactics in the second half to deal with Merchant's kicking strategy. Gregor Anderson, Charles McNamee and Tobias Parkinson put Kirkham into better attacking positions later on into the game. Yande Nkonge scored Kirkham's first try of the half following some hard graft from the KGS forwards. Merchants then responded with another penalty kick. The game stayed close at 9-12 until the last ten minutes when Kirkham eventually broke down the Merchants defence with a try from Harry Thompson and McNamee added the extras again. Kirkham managed one more try through winger Sky Lo making the final score 9-26 to Kirkham.
KGJS Rugby
The U9s rugby team travelled to Sedbergh Prep yesterday playing some excellent rugby scoring some excellent tries. Thanks to Sedbergh for organising & the excellent refereeing which allowed both teams to develop their game play.
It was a great game of hockey for our U11 boys vs Preston Hoppers. Kirkham managed to retain possession with good movement and composure on the ball. This resulted in some very good goals being scored.