20 November 2019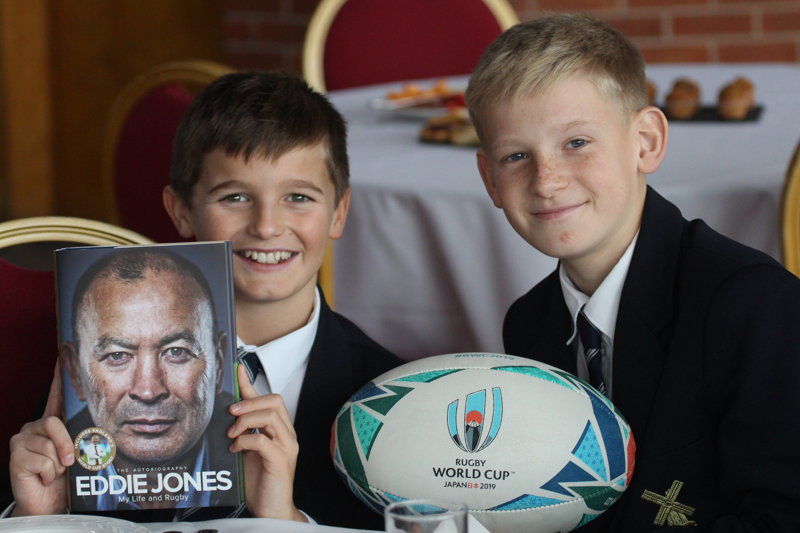 Yesterday, ten Kirkham Grammar School First Year pupils were delighted to be given the opportunity to attend a breakfast book signing with Eddie Jones, Australian rugby union coach and former player, who has been the head coach of the England national team since 2015.
After a lovely breakfast, the pupils were given the opportunity to meet Eddie and each of the boys received a signed copy of his latest book, 'My Life and Rugby'. Lucas also asked Eddie to sign his Japan 2019 World Cup rugby ball and Charlie his World Cup shirt.
'My Life and Rugby' draws on his coaching experience of Australia, when he lost in the final to Clive Woodward's 2003 World Cup-winning team, and coaching Japan to the greatest upset in Rugby World Cup history when they beat South Africa. Eddie also shares leadership lessons that are equally applicable off the pitch, as well as how he has managed success and learnt from failure to now be rated one of the top sports coaches in the world. The story of a rugby legend, told with unflinching honesty, My Life and Rugby is the ultimate rugby book for all fans of the sport.
Thank you to Plackitt & Booth Booksellers and Fylde Rugby Club for a fantastic morning.
The photographs are now available to view on our Kirkham Grammar School Flickr page at https://www.flickr.com/photos/kgsphotos/albums/72157711847602448