27 November 2019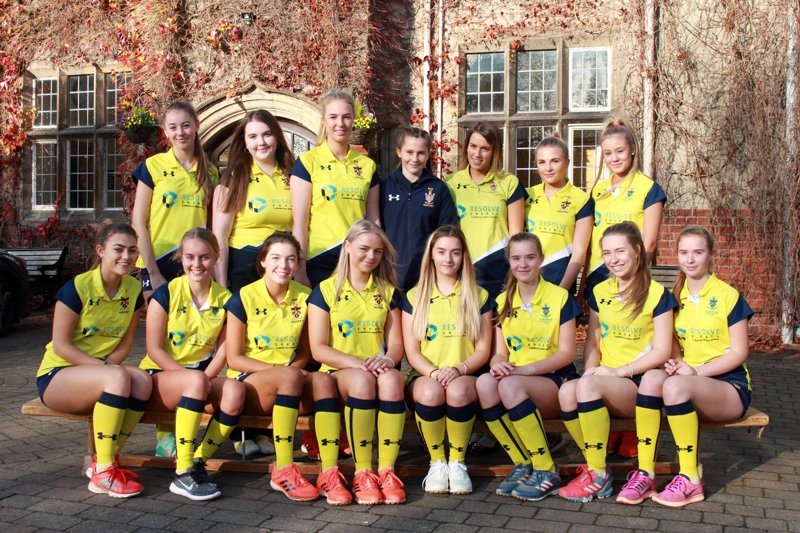 Hockey
1st XI National Cup
The 1st XI played in the 3rd round of the England Hockey National Cup on Wednesday afternoon at home against St Peters York. It was always set to be a tough game against top opposition but certainly wasn't out of reach for the young squad to come out with the win.
From the whistle KGS retained the ball and created chances on goal. After 3 penalty corners KGS converted from the near post with Merrick putting the ball away. St Peters worked hard in the second half and applied pressure resulting in a superb straight strike to take the score line to 1-1. At the full time whistle this took the game to strokes. KGS converted all 5 whilst St Peters missed the target converting only 4. This takes KGS into the 4th round of competition where they will face either Pocklington or RGS Newcastle.
Thank you to Mr Wilkinson for sharing his fantastic photographs from the match. These can be viewed via the link below...
https://www.flickr.com/photos/185690253@N07/albums/72157711941005588
Rugby
Kirkham Grammar 1st XV travelled to Stafford Rugby Club to meet the top rugby school, Denstone College. From the start Kirkham knew they were in for a tough game as Denstone sailed into a 7-0 lead. Although Kirkham responded with some excellent rugby and scored tries through hooker Liyema Mgwigwi and flanker Cammie Thompson, Denstone kept scoring as well. With 25 minutes to go KGS held a 34-29 lead but it was at this point that Captain Ethan Caine and fellow back rower Oliver Leatherbarrow got a grip on the game and dominated the Denstone pack which freed up fellow forwards Cammie Thompson(1 try) and Terrance Heidtmann (3 tries) to get on the scoresheet. Kirkham showed what they were capable of and managed to take the score to 58-29 with a late Keir Gordon try. This was a special game of schoolboy rugby which was a pleasure to watch for all the supporters .
KGS 2nd XV 40 - DENSTONE COLLEGE 12
The second XV came up against a determined and combative Denstone College at Stafford RUFC but still managed to score six tries in the process. It looked comfortable for Kirkham early on as they enjoyed much possession with Elliot Simcock giving Kirkham the go forward every time he touched the ball. The opening try came from Hooker Sam Parker who darted over from close range and soon after Simcock himself scored from long range, bouncing off would be tacklers. Captain Oliver Barnett led from the front, scoring two tries himself, he was ably supported by the rampaging Tane Bentley who was the outstanding forward on the field. Kirkham switched off a little in the second half and allowed the hosts to score two tries themselves, however Kirkham second row, Miguel Costa was a model of consistency once again, tackling and foraging skilfully. Harry Morrison, now with valuable game time under his belt, is proving to be a great asset to the side with his versatility in several positions, good footwork and a fantastic boot.
St Edwards Oxford U12s Rugby Tournament
The under 12s went to St Edward's, Oxford Rugby Tournament last Wednesday.
The results were as followed;
Lost 2-1 v Northcote Lodge Prep School
Won 4-0 v Pinewood School
Drew 2-2 v Moulsford Prep School
Won 6-0 v Woodlands School
Won 5-0 vs Bishops Wordsworth School
Last Wednesday the U12's rugby team went to the St Edwards School Rugby tournament. The boys played a total of five games resulting in; three wins, one draw & one loss.
The first game they played was against Northcote Lodge Prep School, the boys showed a promising performance against a strong team unfortunately falling short of a victory (1-2) whilst trying to adapt to the shorter game time of the tournament.
The boys then played Pinewood School who they beat 4-0. The boys put in a very good performance once they had woken up from their early morning start playing some good rugby and showing a good display of handling.
After a short break the boys then played Moulsford Prep School, the break through the boys off a little and they didn't quite have the same motivation of that in the second game against Pinewood. However KGS were leading for the majority of the game but some a missed tackle and we were level pegging's for the final whistle, the game finished 2-2.
KGS then regathered their motivation going into the game against Woodlands School. With their best performance of the day and their biggest score line (6-0). Kirkham showed outstanding game play and courageous tackling throughout.
The U12s headed into their last game against Bishops Wordsworth School raring to go. Some tired bodies and some concentration being lost due to a break before their last game. The boys had their game heads back on. Scoring five tries and conceding non. The boys showed some promising gameplay way beyond that of the opposition.
Well done to all the players that travelled down to Oxford and to all the try scorers.