9 December 2019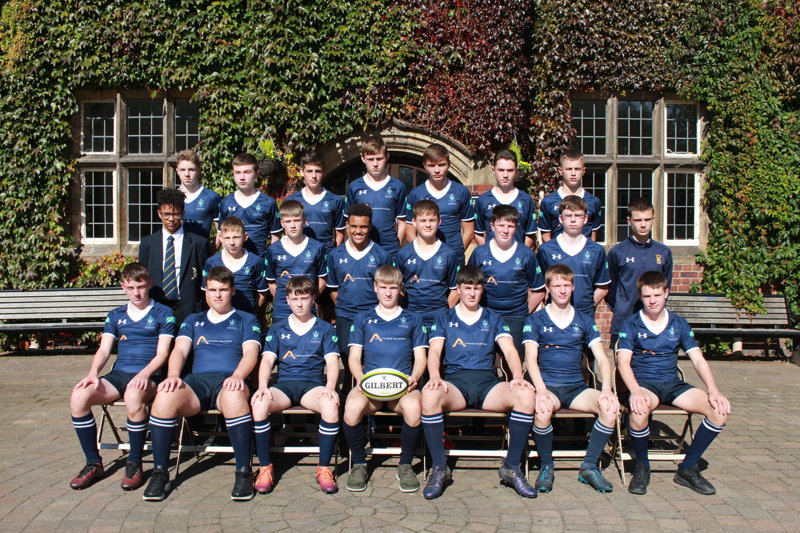 Rugby
Headmaster's 1st XV vs Merchant Taylors 1st XV
Kirkham started slowly and found themselves defending their own line following a physical encounter with Merchants. Kirkham defended well which resulted in a turnover. Finn Gordon was able to relieve Kirkham of the pressure with his big boot. A strong kick chase by the back three caused a knock on in the centre field. The pack were dominant all game in the scrum enabling a steady ball for Harry Swaine to distribute to the backs. The backs were able to score in the corner through Terance Heidtmann and a successful conversion by Sihlalo Benge. The home team then put the pressure on resulting in two consecutive penalties of which they opted to kick at the posts. 7-6. Sam Parker, Tane Bentley and Louis Fletcher possessed some strong ball carry's to get Kirkham back on the front foot. Kirkham was awarded a penalty in front of the post which Captain Oliver Barnett opted for the three points which successfully went over. Just before the half time whistle, the Kirkham backs consisting of Finn Gordon, Ewan Macaulay, Adam Spence, Ben Howarth and Sihlalo Benge, put another well-rehearsed move together which resulted in Terance Heidtmann again scoring in the corner for his second of the game, another successful conversion by Sihlalo Benge.
After half time Merchants fought back in which was a tough second half. Kirkham's discipline round the breakdown enabled Merchants to add pressure onto the Kirkham team. With great composure the Kirkham team were able to regain possession and play rugby again. Kirkham's last try again came from Heidtmann for his hat-trick from a great team try, the conversion was unsuccessful.
The final score line of the physical game finished 22-6 to Kirkham Grammar School.
KGS 1st XV v Woodhouse Grove
Kirkham Grammar School 1st XV reached the last game of their season with an unbeaten record. After magnificent recent away wins over Harrow School, Denstone College and Ballymena Academy, Kirkham were faced with more local opposition in Yorkshire school, Woodhouse Grove. A large crowd gathered at Preston Grasshoppers for this game with KGS expected to maintain their unbeaten season. Woodhouse Grove were in no mood to allow this to happen and even though winger Keir Gordon opened the scoring for KGS with a well worked try, the Yorkshire side made Kirkham battle for everything. As half time approached Kirkham only held a 7-3 lead but suddenly against the flow of play KGS managed to score 2 quick tries another from Keir Gordon and a fine individual try from scum half Jonty Cope. The half time score was 19-3 with the large KGS crowd anticipating more but it was Woodhouse Grove who gradually started to gain the upper hand and whittled away the KGS lead. With 10 minutes to go the game was in the balance with Kirkham only leading 19-13. Captain Ethan Caine rallied his team and, with the spirit they have shown all season, found a way of turning the game around. Kirkham were not going to allow Woodhouse Grove to spoil their season as they forced the Yorkshire side to make mistakes which led to a penalty in front of the posts. Fly half Elliot Gourlay stepped up to take KGS clear 22-13. The last 5 minutes were dominated by Kirkham as they finished their season with the win they wanted. This group of boys have flown the flag of Kirkham Grammar School all season with great tenacity and skill and deserve all the accolades given to them for this outstanding season.
KGS 2nd XV
KIRKHAM 19 ST. DAVID`S, LLANDUDNO 17
Kirkham hosted St. David`s, who were on a mini tour of the Fylde Coast, on Saturday in a very entertaining and competitive game. Kirkham dominated the early play, managing to keep possession for a time, which allowed them to prize open the St. David`s defence for Jason Choi to score. Soon after Kirkham were pinned deep into their own 22 and as the ball went to Harry Morrison he jinked his way past one defender and set off on a mazy run into the St. David`s half, brushing off two tacklers to score under the posts. Kirkham, now 12-0 up looked in control. However, St. David`s managed to score two tries and take the lead. Kirkham found it hard to string phases of play together, but with the wind behind him, Morrison forced the visitors back into their own 22. A well- worked Kirkham line out five metres out saw several drives thwarted and scrum-half Will Andrews managed to force his way over to get Kirkham level. Morrison had a challenging conversion to essentially win the game which he duly did, the kick going in off the post. Kirkham had a nervous five minutes left but managed to hold on for the win. Saturday 7th December
Lancashire Cup 3rd round
KGS U16 v St Peter's Wigan
WON 48-8
The U16s played St Peter's Wigan on the artificial surface pitch at Preston Grasshoppers which allowed for a fast flowing game. Half back pairing Ethan Crompton and Charles McNamee struggled to deal with St Peter's aggressive defence early on, however once the Kirkham forwards generated some momentum the Kirkham attack started to flow. Kirkham scored five tries in the first half, Josh Lynch and Harry Thompson both picked up two and full back Gregor Anderson finished off some quality handling to score his third try in two weeks.
St Peter's secured more possession in the second half and managed a try of their own. However, Kirkham continued to battle and managed two further tries through Tom Hoad and Lynch, who picked up his third try and completed his hat trick. McNamee and Lynch shared the kicking duties and managed to convert four of Kirkham's eight tries.
Lancashire Cup Schools Cup Quarter Final
KGS U16 v Merchant Taylor's, Crosby
WON 43-0
Aaron Pope, Yande Nkonge and Rhys Fray pulled the strings for the U16 side on Saturday as they progressed through to the semi-finals of the Lancashire School's Cup. Kirkham did most of the damage in the first half with tries from Tobias Parkinson, Ethan Crompton and two from Josh Lynch. The pitch deteriorated as the game went on forcing Kirkham to adopt a more direct, territorial style of play, and moving into the last quarter of the game, Kirkham started to score tries again. Harry Thompson picked up two tries and Lynch completed his second hat trick in two weeks. Kirkham will play the winner of either Hutton Grammar or Lancaster RGS in the semi-final next February.
U15s Report:
The under 15s continued their good form from the Lancashire Cup Quarter Final win the week previous, with a strong 43-14 win versus Merchant Taylor's, Crosby. Straight from the off, Charlie Read pulled the strings well, with a good mixture of kicking and running. Some excellent defensive pressure led to Ioan Condon diving over from close range, this was followed with 4 excellent tries from Will Austin and Aiden Hayward bagging a brace each.
Merchants did reply just before half time with loan player Ben Wiggins scoring for the visitors. Kirkham controlled the second half with 2 further tries from Condon and Dowds, before a second loan try by Jorge Zacharias. KGS won the match 43-14.