26 April 2020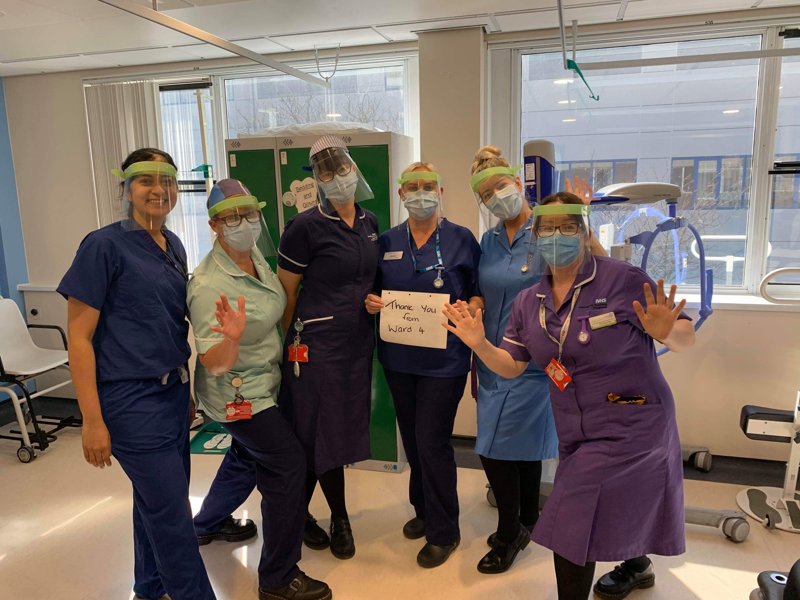 As frontline medical staff continue to experience critical shortages of PPE equipment, Kirkham Grammar School were delighted to be able to support health workers by producing and supplying their own.
The plea for the visors initially came from a KGS parent who works at Preston Royal Infirmary. The first 80 visors Kirkham Grammar School produced (those in the photo with the paper covers on) were laser cut from polypropylene sheet which meant 5 visors could be produced in about forty minutes until material ran out. 50 of these visors went to Preston Royal Infirmary and 30 to Blackpool Victoria Hospital.
To continue production over the Easter holidays, Design Technology teachers, Mr and Mrs Hancock took home the department's two 3D printers which were used every day for two weeks to make an additional 240 visors, each headband taking one hour to print. These visors were distributed to: Kirkham Health Centre; Ash Tree House Surgery, Kirkham; The Manse Nursing Home, Kirkham;
Millbanke Residential Care Home, Kirkham; Waterloo Road Medical Centre, Blackpool; Bloomfield Medical Centre, Blackpool; Adelaide Street Medical Centre, Blackpool; Westmorland Homecare, Poulton; The Crescent Surgery, Thornton-Cleveleys and Ansdell Ambulance Station.
Kirkham Grammar School Headmaster, Mr Daniel Berry, said, "As soon as we heard that these amazing frontline staff were not being protected enough against this devastating virus, we set to to produce the much needed visors. In addition to this, we have also donated a large quantity of science goggles, surgical gloves and disinfectant wipes to local GP surgeries and medical centres. It is vital at a time like this that the community pulls together and we were delighted to be able to support our local heroes. To receive messages of thanks and photographs of them being put to good use is heartwarming."