28 April 2020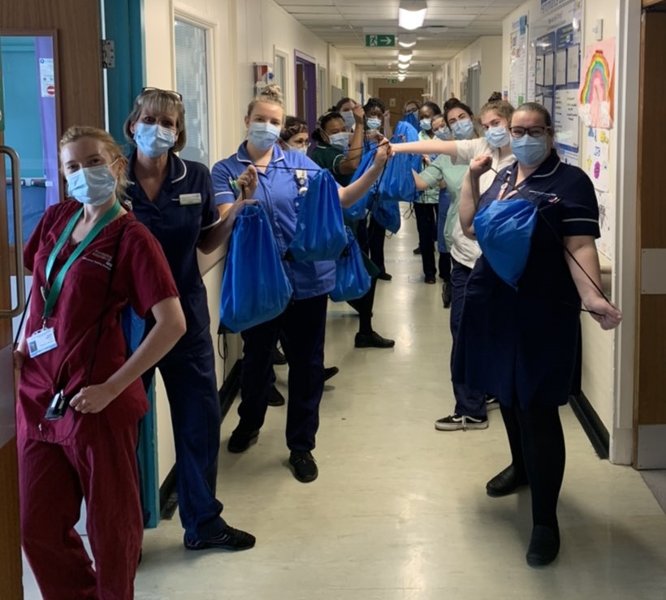 At the beginning of the 'lockdown' period, a group of I1 and J2 mums decided to raise money for our amazing NHS frontline staff. Some of the I3 mums joined in too and in total they have raised over £1200.
The ITUs at Blackpool were desperately in need of socks and toiletries. The nurses shower before they leave work so that they can return safely home to their families. They are in protective gear and their shoes can be cleaned but their socks are thrown away after every shift so donations of socks were greatly received. Iris' dad, Mr James supplied several thousand pairs of socks courtesy of his employer the BooHoo Group.
Mr Wan also did a 'big bargain shop' last week and dropped this off at Royal Preston Hospital and these were well received. The fundraising team working for Lancashire Teaching Hospitals Charity, which includes Rosemere Cancer Foundation and Baby Beat in its family, prepared and delivered 4,000 welfare packs containing donated items valued at around £85,000 to frontline clinical staff at the Royal Preston and Chorley and South Ribble Hospitals.
They are also helping Lancaster with a donation to provide toiletries for care packages which go out to patients and members of staff who are currently working but having to isolate themselves away from their families and also to patients.
Paula Wilson, Head of Charities and Fundraising for LTHTR, said: "We wanted to show our thanks and appreciation to all the frontline staff working in our two hospitals. Our focus is usually on fundraising to benefit patients. Our charity family works to fund equipment for our hospitals that the NHS cannot afford to buy. We also fund other services and research plus work to improve our treatment environments to make life better for patients, but I am delighted that we are able to offer support to our frontline colleagues. They are working so hard and putting others first during this unprecedented health crisis, we felt we needed to give them some of our help and attention. From the overwhelmingly supportive response we have received from local individuals and businesses, we know that this is something the public very much agrees with us on."
If you would like to donate, please contact Amanda Wan at amandajwan@hotmail.com
or donate online at https://www.gofundme.com/f/kids4carers-support-to-nhs-staff-covid19
Well done to you all…a fantastic effort!