28 April 2020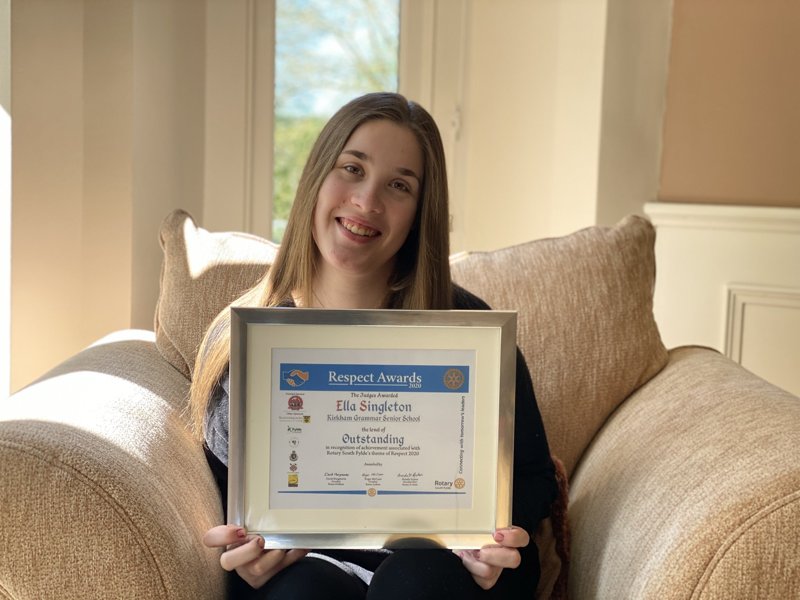 Congratulations to Fourth Year pupil, Ella, who has been awarded an 'Outstanding' Rotary Respect Award in recognition of the support and care she provides for her disabled brother, James who has complex needs.
Ella helps with her brother's care when she is not at school and has a huge amount of responsibility for someone so young. She approaches this responsibility with positivity and great kindness and is utterly devoted to her brother. She helps to organise deliveries of medical supplies, which are huge and ensures that emergency equipment is functioning correctly. She is fully trained to do emergency and routine tracheostomy changes and can draw up and administer James' antiepileptic medications and knows how to keep him calm when he has a seizure. Aside from medical tasks, she also has an important role in keeping him happy. She can communicate with him even though he cannot talk and sings and dances with him. Ella loves reading to James and enjoys making him laugh.
Due to James' condition, he has regular hospital stays and Ella remains upbeat when James and her Mum are in hospital for long periods. She also takes care of the family pets and her Dad and younger sister during these times and tries hard to keep the family positive. Ella gives up a lot of her time at the weekends to spend time with James as she knows that their time together is precious as his prognosis is life limiting.
Well done, Ella...a fantastic achievement, very well deserved.